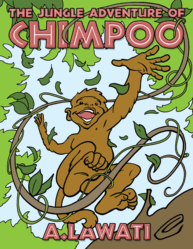 Chimpoo shows that being young does not stop anyone from doing what is right and moral.
Toronto (PRWEB) September 12, 2011
When it comes to teaching children the values of teamwork and loyalty, A. Lawati does not monkey around.
In his new book The Jungle Adventure of Chimpoo, Lawati brings young readers on a journey through the jungle with little Chimpoo, a monkey embarking on a mission to rescue his Papa. Introducing children to life lessons of courage, perseverance and cooperation, the book also conveys the importance of not judging others as a scary owl turns out to be a trusted partner.
"The motivation is simple," says Lawati. "Chimpoo shows that being young does not stop anyone from doing what is right and moral."
Founded on the important human values of courage, responsibility and love for others, The Jungle Adventure of Chimpoo ultimately encourages young readers to listen to their parents for their own benefit. When it becomes apparent that Chimpoo can only rescue Papa with the help of another, children learn the importance of collaboration.
Serving as a resource for both parents and teachers to start conversations about responsibility and self-confidence, the book's vivid illustrations engage children and help to improve their pictorial association with words.
"Chimpoo illustrates fearlessness in the face of uncertainty, and kids see his bravery when he steps up to help others," says Lawati. "This book is a vehicle to inspire and educate young, keen minds."
The Jungle Adventure of Chimpoo
By A. Lawati
Approx. 40 pages
Retail price: $17.99 (sc), $21.99 (hc)
ISBN: 9781463429218
About the author
A. Lawati has enjoyed telling stories to younger children since he was young, especially about animal adventures. His love for animals, including his own pet monkey, inspired him to become a part-time horse trainer, and he spent three years working with Arabian race horses in Kentucky and the United Arab Emirates.
Before immigrating to Canada in 2002, Lawati worked as a banker in Dubai. He lives in Toronto with his family. This is his first book.
EDITORS: For review copies or interview requests, contact:
Jessica Kiefer
Tel: 317.602.7137
Fax: 317.536.3775
Email: jkiefer(at)bohlsenpr(dot)com
(When requesting a review copy, please provide a street address.)
###