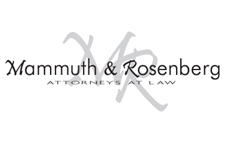 Good luck, Anthony, on this worthwhile endeavor!
Montgomery County, New Jersey (PRWEB) September 14, 2011
Attorneys Tod Mammuth and Marc Rosenberg are excited to sponsor Anthony Quintois in the MS City to Shore Bike-a-Thon on September 24th and 25th. Mammuth & Rosenberg's paralegal, Phyllis Quintois, has multiple sclerosis, and it is a very personal issue to all the members of the firm.
Phyllis's son, Anthony, has a goal of raising $1,000.00. "We want to thank everyone very much for supporting this important cause," states Montgomery County injury attorneys Marc Rosenberg and Tod Mammuth. "Good luck, Anthony, on this worthwhile endeavor!"
There is still no cure for MS. However, the MS Society is continually doing research to find a cure. Many new medications are in development, several of which do not require daily or weekly injections.
Mammuth & Rosenberg encourage anyone wishing to donate to this event or to the MS Society to email aquintois(at)pennlighting(dot)com for further information and directions.
About Mammuth & Rosenberg, Attorneys at Law
Founded in 1978, Mammuth & Rosenberg helps injured people in Pennsylvania and New Jersey. A single accident can change a whole life. As personal injury attorneys, they help seek compensation for medical bills and damages incurred by victims of motor vehicle, construction, and premises liability accidents. They also provide assistance with insurance and workers compensation legal issues. Call Mammuth & Rosenberg at 610-667-1500 or contact them online. The firm has offices in Bala Cynwyd, Pennsylvania and Cherry Hill, New Jersey.
###