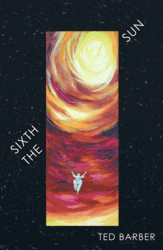 It's really a study of history's repetition and man's interaction with surroundings.
Phoenix, AZ (PRWEB) September 12, 2011
A new book is bringing fresh perspective to possibilities of the future as it capitalizes on the power of the past.
In The Sixth Sun, author Ted Barber ponders mankind's destiny, venturing into the future on the wings of history's toughest lessons. Following five disasters that destroy much of mankind, the book centers on the next disaster and the two humans chosen to survive. Combining history, science fiction and the popular Mayan 2012 theory, The Sixth Sun addresses the question of man's ability – or inability – to learn from past mistakes.
"I call it a prehistory of man's next 4,300 years," says Barber. "It's really a study of history's repetition and man's interaction with surroundings."
The book also illustrates the consequences of mankind's complacence, illustrating a willingness to be blinded if life is comfortable. Barber asserts that this is the reason that history repeats, tying the notion to an increase in mankind's lacking responsibility and apathy.
Ultimately set in the future with a view of what could happen to the world and our lives when we learn from the past, The Sixth Sun introduces prospective possibilities in a context designed to make readers think.
"Those who do learn from history, they have the ability to survive," says Barber. "It's science fiction that shows us what accomplishments are possible."
The Sixth Sun
By Ted Barber
Approximately 359 pages
ISBN: 9781456701499
Retail price: $28.28 (hc), $17.72 (sc), $9.99 (e-book)
About the author
Ted Barber has been drawn to both history and writing throughout his life. As a businessman, he wrote poems and short stories, eventually leaving his 15-year career to focus more time on research and writing. His interest in the Mayan end of days theory is the basis for The Sixth Sun. Barber currently lives just east of Phoenix.
EDITORS: For review copies or interview requests, contact:
Jessica Kiefer
Tel: 317.602.7137
Fax: 317.536.3775
Email: jkiefer(at)bohlsenpr(dot)com
(When requesting a review copy, please provide a street address.)
###