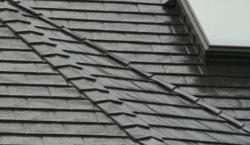 Reminds me of what you would see on a traditional home back in England.
Surrey, BC (PRWEB) September 12, 2011
Already armed with three unique and diverse roofing product lines, Rare Manufacturing Inc., recently designed a new metal roofing product called IronStone Slate. This product is another great example of what is possible with the endless design flexibility of steel.
Each interlocking IronStone Slate roof panel covers approximately 2.88 sq. ft. and is made from pre-painted commercial grade sheet steel. The roofing panels are coated with a baked on Hylar® 5000 Cool Roof coating allowing them to meet the US ENERGY STAR program guidelines. The new IronStone Slate roof panel offers customers a different aesthetic to choose from when considering metal roof options for their home. This new look "Reminds me of what you would see on a traditional home back in England, looks alot like the real thing." according to one happy homeowner. This new profile comes with Rare Manufacturing's lifetime manufacturers' warranty.
Having another design choice to offer customers will undoubtedly propel Rare Manufacturing further toward their goal of becoming a major contender in the metal roofing arena. Striving to offer more options to homeowners and installer friendly roofing products have been the focus of the company from their earliest days. Their new IronStone Slate product is yet another opportunity for them to showcase the many benefits of metal roofing while also giving homeowners the traditional look and appeal of old world slate roofing.
Hylar® 5000 is a registered trademark of Solvey Solexis, Inc.
To learn more about IronStone Slate, visit http://www.raremanufacturing.com/ironstoneslate.php
To learn more about metal roofing, visit http://www.metalroofing.com
To learn more about the US ENERGY STAR Roof Products Program, visit http://www.energystar.gov
About Rare Manufacturing Inc.
Incorporated in 1993, Rare Manufacturing was started, in part, by two local roofers (Victoria, BC), whose vision of designing an installer friendly metal roofing panel defined the company. Over the past 18 years, Rare Manufacturing has grown from a small manufacturing company supplying local roofers to the corporation it is today, supplying numerous dealer/installers throughout Canada, the United States and beyond.
###