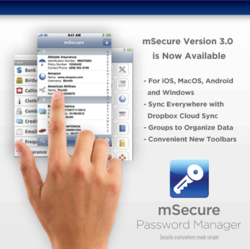 Cloud sync offers the great advantage of being able to sync anywhere and anytime without firewall restrictions and sync servers, but this convenience cannot come at the expense of data security.
Portland, OR (PRWEB) September 12, 2011
mSeven Software is announcing the launch of mSecure 3.0, offering additional security, accessibility and ease-of-use features for iOS, Android, Mac OS and Windows. mSecure 3.0 now supports groups for categorizing records, the ability to mark favorite records for fast access and a new Security Everywhere™ architecture for improved data security when syncing with cloud services such as Dropbox and iCloud (Q4).
mSecure 3.0 introduces the Security Everywhere sync architecture to accomplish three main goals:

Sync securely without concern about the security of the cloud system.
Sync anywhere using a general Internet connection without the hassle of firewall and router settings.
Sync anytime keeping all mobile and computing devices in sync without a sync server.
"Cloud sync offers the great advantage of being able to sync anywhere and anytime without firewall restrictions and sync servers, but this convenience cannot come at the expense of data security," said Ray Marshall, president of mSeven Software. "We will support multiple cloud systems and our private wireless sync system to provide our customers options as part of our 'security everywhere made simple' principle."
mSecure's Security Everywhere architecture adds additional encryption and compression to its proven 256-bit Blowfish encryption such that a brute-force attack by supercomputers would take 100 years to extract the data.
Another key feature in the 3.0 release is the support for Groups (a.k.a "Categories"). The group feature enables users to assign records to personal, business or custom-defined groups. The user can also also mark any record as a favorite from multiple groups making it simple to access the most-used records quickly and easily.
Other new mSecure features include:

Sharing of records via email, SMS or clipboard
Sync button on main toolbar to make it easy to keep records in sync with other platforms.
Record counts by group, type and record name
Sync reports to track changes in synced data.
Email backup/restore for iOS and Android for quick backups.
New convenience menus and toolbars to access most-used functions.
mSecure for iOS is available via the iTunes App Store as a Universal app for iPhone, iPad and iPod Touch. mSecure for Android is available in the Google Marketplace, Amazon App Store and Verizon Media Store. The price of mSecure for iOS and Android is on sale for $6.99 during an introductory period after which the price will be $9.99.
mSecure for Mac OS is available in the Mac App Store for $14.99 and mSevenSoftware.com, where the Windows version is also available, both for $19.99 each. A $5 off coupon for mSecure MacOS/Windows is available to mSeven Software Facebook fans (not applicable on Mac App store). Details on this special offer can be found on the company's Facebook page at http://facebook.com/mSevenSoftware.
About mSecure
mSecure continues to be held out as an industry-standard in password and personal information protection for mobile and computing devices. mSecure uses ultra-secure 256-bit blowfish encryption to protect personal information such as account numbers, usernames, passwords and more. mSecure provides seventeen popular personal information templates with the ability to create custom templates to facilitate easy entry of user information.
About mSeven Software
Based in Portland, Oregon, mSeven Software has developed and supports mSecure and several other applications for the iOS, Android, Mac OS and Windows platforms. As a leader in the productivity category, mSeven Software operates on the principle that useful software is "made simple for everyday users."
For more information:
Contact: David Pfeiffer
Phone: 262-968-1940
Email: dave(at)msevensoftware(dot)com
Web: http://msevensoftware.com
Video: http://www.youtube.com/v/mmVQb9NIxHE?rel=0
Google, Google Android, Apple, iPhone, iPad, iPod and Windows are either registered trademarks or trademarks of Google, Apple and Microsoft Corp. respectively in the United States and/or other countries. mSecure, mGifts, mSeven Software, Security Everywhere are trademarks of mSeven Software.
# # #