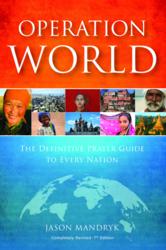 (PRWEB) September 19, 2011
There are huge issues around the world. Poverty—children are living on the streets. Hunger—many don't know where their next meal will come from. Witchcraft—people are dedicating children to spirits of the dead. Wars, earthquakes, tsunamis, and more than ever, people are desperate for God.
In the midst of all of the chaos and need, God calls the church to be; 'A house of prayer for all nations'. In response to the global needs, and the call of God, Operation World is inviting all churches to join in the global prayer movement to impact the nations for His glory.
"Jesus said 'The harvest is plentiful but the workers are few. Ask the Lord of the harvest, therefore, to send out workers into his harvest field.' When he saw the need of the harvest, the first thing he told the disciples to do is pray," said David Platt, Senior Pastor at The Church at Brook Hills, Birmingham, AL and author of Radical: Taking Back Your Faith from the American Dream.
"Operation World puts practical helps into the hands of believers to know how best to pray," said Platt.
Operation World's easy-to-follow summaries of every nation include timely challenges for prayer and specific answers to prayer; updates on church growth, population, people group and language statistics; charts and maps; and explanations of major currents in economics, politics, and society.
Churches from 50 to 15,000 can participate in the Operation World Church Prayer Campaign. A variety of free resources are available at http://www.operationworld.org/churches:

Customizable campaign videos
Customizable campaign bulletin inserts
Customizable email templates and web banners
Sermon outlines with notes written by David Platt
Operation world country specific prayer videos
eBooks and articles focused on global prayer for your church, and more
"God hears the prayers of his people, and he loves people all over the world. I hope you'll be a part of this movement, and I hope you'll never underestimate the power of prayer," said author Max Lucado.
About Operation World
Operation World, the definitive prayer guide to every nation, was first published in 1974 and continues to be the primary global resource encouraging readers to pray for world missions and evangelism. More than 2.5 million copies have been sold in a variety of languages. The book has been translated into German, Spanish, Portuguese, French, Korean, Chinese, Russian, and in part into Indonesian and Italian.
About Biblica
Celebrating more than 200 years in ministry, Biblica provides God's Word to people through translation, publishing, and Bible engagement. Biblica's ministry extends worldwide, with outreach in 55 countries. Biblica has translated the Bible in more than 100 languages and is the translation sponsor and ministry publisher of the New International Version® (NIV®) Bible, the most read and trusted contemporary English translation. Through its worldwide reach, Biblica engages people with God's Word so lives are transformed through a relationship with Jesus Christ. For more information, visit BiblicaDirect.com.
Mike Dworak, Biblica Publishing Marketing Director • mike.dworak(at)biblica(dot)com • 719-867-2768 • BiblicaDirect.com
###