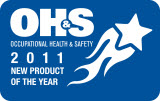 It's an honor to have our product recognized by the occupational health and safety community
Nashville, TN (PRWEB) September 15, 2011
Occupational Health & Safety magazine announced the winners of its 2011 New Product of the Year Award, which included SiteHawk VeriScan in the MSDS Management category.
VeriScan complements SiteHawk's existing MSDS management solutions by enabling companies to automate the chemical physical inventory process and reconcile those results directly to their MSDS notebook. The barcode scanning system accelerates the search, input, and identification process for chemical inventories.
"It's an honor to have our product recognized by the occupational health and safety community," commented Kraig Haberer, Chief Operating Officer of SiteHawk.
For more information on VeriScan, please visit SiteHawk's chemical inventory solution page.
About SiteHawk
SiteHawk offers a complete approach to MSDS and chemical data management via web-based, user-friendly software and managed services. Organizations in virtually every industry utilize SiteHawk solutions to manage their hazard communication programs, meet regulatory and environmental compliance initiatives, manage chemical inventories and chemical data, publish material safety data sheets, and keep workers safe throughout the organization. With customers spanning the globe, SiteHawk continues to lead the environmental health and safety industry in customer satisfaction with a greater than 98% customer retention rate.
The complete SiteHawk solution portfolio includes software and services for MSDS management, MSDS authoring, chemical inventory management, and environmental regulatory compliance. For more information on any of these services, please visit http://www.sitehawk.com.
###