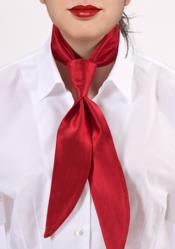 we are not trying to reinvent women's fashion but simply responded to an already existing demand
San Francisco, CA (PRWEB) September 13, 2011
Neckties are no longer a fashion accessory that is exclusive for men. Online necktie and bow tie retailer Ties-Necktie.com now added a special women's tie to their collection. Founder and inventor of the women's tie, Hendrik Pohl, explains that, "We are not trying to reinvent women's fashion but simply responded to an already existing demand." He further explains that, "Over the past several months we regularly got asked for women's neckwear that matches our mens ties. We were at first hesitant to ask our suppliers to create a design exclusive to us, but after requests continued, we eventually were convinced that producing a women's exclusive neckwear line would be worth the risk."
Ties-Necktie added their first woman's tie last week and currently offers about a dozen solid color ties that are an exact match to their solid color neckties. Pohl plans to expand this collection and is working on offering Ties-Necktie's entire solid color tie collection also as a matching women's tie by the end of 2011. In addition to the ready-to-wear assortment Ties-Necktie.com will be offering custom designs that will allow for endless customization options including pantone color matching, logo embroidery, and custom pattern design.
These special women's ties appeal to a very unique market. "Most customers that are asking for women's ties are companies looking to outfit their male and female employees with matching neckwear," explains Pohl. Common industries that see benefit in dressing up their employees in matching ties are Airlines, Schools, Choirs, Cruise Ships, Banks, and generally companies that have their employees in direct face to face interaction with their customers. Ever since we added our women's line sales have increased. Not only are we able to generate new business from a market we previously could not sell to, but we are also able to increase our sales volume with our existing B2B customer base," says Pohl.
Not only does the color of men's and women's neckwear have to match the company uniform, but in addition, Pohl tells us that, "The way the tie is worn also has to compliment the overall look, and has to be uniform among all employees." To guarantee this uniform look Ties-Necktie designed their women's ties with a sliding knot that eliminates the need of learning and enforcing uniform looking tie knot. Instead, the tie is put around the neck. Then each end of the tie is pulled through a loop made from matching fabric, and finally the loop can be slid up. Best of all, according to the tie's inventor, "It is comfortable, convenient, and adjustable for any height and neck size."
For more information about the women's tie please contact Ties-Necktie.com's founder Hendrik Pohl via e-mail or phone.
###