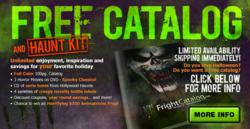 Worcester, MA (PRWEB) September 11, 2011
FrightCatalog.com is kicking off the Halloween season with a personalized consumer package, known as the Haunt Kit, and a full-color product catalog. Even with digital product presentation increasingly becoming the accepted norm for consumers, FrightCatalog.com has stated that it "receives numerous daily inquiries about the release of [their] catalog." Technology may be advancing, but not everyone is willing to jump away from conventional media sources.
The 100-page catalog is only one of several items offered within the Haunt Kit, a package of exclusive Halloween items that FrightCatalog.com is releasing in limited numbers to its fans. In addition to the product catalog, consumers receiving the Haunt Kit can expect 3 horror films on DVD, discount coupons, a chance to win an animatronic prop, CDs of eerie Halloween music, and some fun and creepy novelty bottle labels.
"On one hand, the Haunt Kit is a response to our fans' continual suggestions. On the other, it is a 'thank you' for their incredible support," says Sam Shepler, creator of the Haunt Kit. "It costs only $4.95 for shipping and gives you a ton of ideas for Halloween costumes and accessories – particularly the catalog that our fans have been craving. As a small company that does big business, the feedback of our fans is invaluable to us."
Signing up for the Haunt Kit also enrolls you into the Haunt Club. Unlike the Haunt Kit, the Haunt Club is a monthly digital package sent straight to your email address. "For many, Halloween is a once a year event, but our biggest fans live the anticipation and excitement year round," noted Shepler. "The Haunt Club is all about using our network of industry connections to provide our customers with constant premium discounts. Being digitally distributed, people can wake up, check their email, get a quick pick-me-up of Halloween, then start their day. We want to be right there – right in their inbox - with the most engaging and inspirational news, short stories, coupons, and loads of other invaluable content."
The Haunt Club costs ten dollars per month, billed on the first of each month. If you only want the Haunt Kit and not the Haunt Club, pay for the $4.95 shipping, collect your free gifts, then opt out of the Haunt Club.
For more information about FrightCatalog.com's Haunt Kit, visit http://www.FrightCatalog.com, or join their Facebook page at http://www.Facebook.com/FrightCatalog.
###