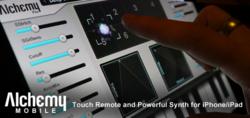 The synthesizer used on 1000s of Hollywood film soundtracks and records now fits in a pocket
Edinburgh, United Kingdom (PRWEB) September 30, 2011
Alchemy Mobile turns an iPhone/iPad into a powerful synthesizer capable of everything from evolving soundscapes and fat basses to lush pads and pulsing arpeggios, using the most powerful synthesis engine yet available on iOS.
Camel Audio products are used by tens of thousands of musicians worldwide, and can be heard on thousands of records by world-class artists such as Orbital, Thomas Dolby and BT, and on Hollywood film soundtracks by composers such as Danny Elfman, Hans Zimmer and James Newton Howard (Alchemy recently featured on his Green Lantern soundtrack).
Alchemy Mobile features virtual analogue, sampler, granular and additive resynthesis for a hugely versatile sound palette, as well as multiple built-in effects such as delays, filters and reverb to add richness and depth.
The Alchemy Mobile interface was designed with ease of use in mind. The mini keyboard built into the app features scalable key size and one-touch major and minor chords so even the clumsiest fingers can play along with friends. An external MIDI keyboard can also be plugged in.
The unique remix pad allow's musicians to easily morph between variations to create new sounds, while its performance controls provide more precise control. The included Loop Player and 25 drum loops also make it easy to use with other music Apps.
The free version of Alchemy Mobile includes 25 sounds, with a further 25 available if registered with Camel Audio. An iPad native version is included, and Alchemy Mobile can be expanded with a wide range of sound libraries from world class sound designers. Each of the libraries contains 50 sounds (400 variations) and is available as an in-app purchase for just $4.99/€3.99/£2.99.
The Pro Upgrade ($19.99/€15.99/£13.99) can remotely control Alchemy or the free Alchemy Player on a desktop computer. Easy one touch access to the remix pad and preset selection means musicians will spend more time getting inspired and less time reaching for their mice.
###