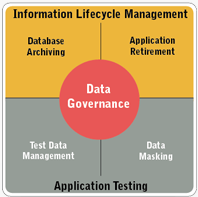 By leveraging patented compression technology in Sybase IQ, the most widely deployed columnar database in the market today, Solix ExAPPS is able to drive down overall TCO of application retirement projects
Santa Clara, CA (PRWEB) September 13, 2011
Solix Technologies, the market leader in Information Lifecycle, test data management and data security solutions, has begun to use Sybase IQ, to offer an integrated and unified solution to manage and secure data that is coming from applications that are being retired or de-commissioned.
According to a recent Gartner report "The decommissioning of existing systems-of-record applications will be very significant — we believe that between 2010 and 2020 more than half of all data center applications in use in 2010 will be retired. This mass retirement will bring the problem of orphaned data to the front and center of issues the IT organization will be expected to mediate and resolve". (Managing orphaned data will require a multidisciplinary approach, March 2011)
Solix EDMS Application Retirement is now integrated and certified with Sybase IQ. This integration allows customers use the industry's leading application retirement software – Solix EDMS along with Sybase IQ as a long term archive so that customers can get an end-2-end application retirement solution which would provide data classification, migration, validation, preservation of application context, along with deep compression to reduce storage requirements and role-based data access to the data stored in Sybase IQ.
Solix also announced a newer configuration of the industry's first application retirement appliance – Solix ExAPPS which embeds Sybase IQ delivering a pre-configured, pre-tested, and certified appliance for application retirement so that customers can get a jump start with application portfolio management projects.
"With large number of enterprises looking to cut down IT maintenance costs by embarking on application retirement projects, enterprises are looking for end-2-end solutions that are simple to use and get started, which show quick ROI, and have a lowest TCO for managing the data from legacy applications with seamless access along with data retention." says Raghu Kodali, Vice President of Product Management & Strategy at Solix Technologies. "The combination of Solix EDMS, Sybase IQ products that are pre-integrated and optimized along with a purpose-built appliance Solix ExAPPS will provide the application retirement that enterprises are looking to deploy immediately".
Together, Solix ExAPPS and Sybase IQ will provide a comprehensive solution for application portfolio management and managing the data retention based on corporate policies with lowest TCO.
"By leveraging patented compression technology in Sybase IQ, the most widely deployed columnar database in the market today, Solix ExAPPS is able to drive down overall TCO of application retirement projects", noted David Jonker, Director, Analytics Product Marketing at Sybase, an SAP Company. "As data volumes from diverse sources continue to grow reduction in storage foot print and sound Information Lifecycle Management plans become essential."
About Solix Technologies, Inc.
Solix Technologies, Inc., a leading provider of Enterprise Data Management solutions, helps businesses to improve application performance, reduce storage costs, meet compliance and data privacy requirements by achieving Information Lifecycle Management (ILM) goals, Data Governance strategies, and efficiently transition to Cloud infrastructure. Solix Enterprise Data Management Suite (Solix EDMS) software enables organizations to implement Database Archiving, Test Data Management (Data Subsetting), Data Masking and Application Retirement across all enterprise data. Solix ExAPPS Appliance is an integrated set of Server, storage and software components for Application Retirement all bundled into a single device. In partnership with leading application and storage vendors, Solix provides integrated ILM, cloud enabling and Data Governance solutions for today's heterogeneous environments. Solix has an extensive global client base, including Fortune 500 companies, and is widely considered the standard for enterprise data management. Solix Technologies is headquartered in Santa Clara, California and has an established worldwide channel program of value added resellers (VARs) and systems integrators.
Visit Solix Technologies on the web at solix.com and follow Solix on Twitter (twitter.com/solixedms) and Facebook (facebook.com/solixtechnologies).
Media and Analyst Contact:
media(dot)relations(at)solix(dot)com
408-654-6514
# # #