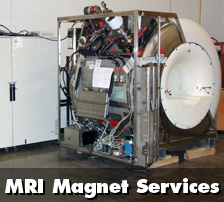 Block Imaging Parts & Service is in an excellent position to deliver high quality parts and radiology services worldwide at a tremendous value
Lansing, Michigan (PRWEB) September 12, 2011
Block Imaging Parts & Service, Inc., a leading national provider of parts and service solutions to the diagnostic imaging industry announced today that that it has entered into a multi-year vendor supply agreement with Cool Pair Plus. Under the agreement, Cool Pair Plus will be BIPS' exclusive supplier of MRI magnet services and cryo-refrigeration support.
Jason Crawford, President of Block Imaging Parts & Service, commented, "CPP shares our commitment to excellence in Medical Imaging. We are confident that this relationship will allow us to continue providing the best comprehensive service coverage at competitive prices."
David Baldwin, Cool Pair Plus' Vice President, stated, "Independent Service Organizations will be facing constant pressure to reduce internal costs during the recent healthcare reform, as end users struggle with reimbursement capture. Block Imaging Parts & Service is in an excellent position to deliver high quality parts and radiology services worldwide at a tremendous value- which aligns perfectly with our mission and vision statements. We consider Jason and his team as not only valuable customers- but as personal friends."
About Cool Pair Plus, Inc.
Cool Pair Plus has been providing MRI Cryogenic Equipment and MRI Service since 1995. We offer exchange and repair services for MRI Coldheads and Compressors for Sumitomo, Balzers, Leybold, and APD. We have in stock MRI Flexlines and Adsorbers. Our Expert MRI Service consists of Emergency On-Site Repair, Cryogen Sales & Fill Services, Cooldowns, Pumpdowns, Ramping& Shimming for GE, Siemens & Philips MRI systems. Cool Pair Plus is also an industry leader in Non-Medical Cryogenic equipment support for laboratory and industrial applications worldwide. For more information, please visit http://www.coolpair.com.
About Block Imaging Parts & Service, Inc.
Block Imaging Parts & Service, a subsidiary of Block Imaging International, is specifically dedicated to global sales of medical imaging equipment spare parts, in-house refurbishment of complete systems and several economical service programs known as Flex Service. BIPS provides warrantied parts for all imaging equipment modalities from Amps to X-ray Tubes as well as MRI Coils to Injectors and X-ray Boards. Block Imaging Parts & Service is proud to be an ISO 9001:2008 certified company. For more information, please visit the Block Imaging Parts & Service website at http://parts.blockimaging.com.
###