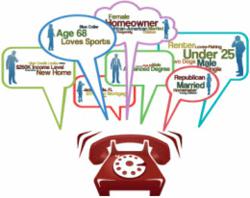 For about a dollar a day, you can get a big advantage over your competition and make the most of the people that are already calling you.
Tallahassee, FL (PRWEB) September 13, 2011
PATLive, a provider of automated and live phone call management services, announces the release of its Caller Insight feature. This new feature provides PATLive's clients the ability to view demographic information on their callers like address, income, occupation, credit, mortgage, and so much more. The goal is to provide our business customers valuable insight into who is calling and let that guide smarter business decisions.
Caller Insight helps to pre-qualify callers and allows for more productive follow-up marketing. For example, a luxury car dealership gets 50 calls a month that go to voicemail in which the caller does not leave a message. Caller Insight provides detailed information about 25 of those callers that showed 5 of them had an income of over 100K, paid over 500K for their home, and had a passion for driving. Now, the dealership can have the best salesperson call these 5 people back and send them out a nice marketing brochure to the address Caller Insight provides.
But Caller Insight doesn't just help with callers that hung-up, it can be incredibly powerful for all customers. For instance, a small local retailer is struggling to decide whether to invest in an online storefront. When the retailer reviews the Caller Insight data and realizes that 84% of callers are not local, 73% have a platinum or gold credit card, and 97% own a computer, investing in an ecommerce storefront seems like a no-brainer.
Caller Insight is easy to use and manage. The reports can be viewed online at any time or can be scheduled for regular email delivery. VP of Development, Ken Devivo states, "Caller Insight incorporates new reporting design elements called Infographics that lets users visualize the wealth of data available on their callers in a meaningful way. Infographics and charts display the summation of available information for a quick snap shot of caller demographic data."
"For about a dollar a day, you can get a big advantage over your competition and make the most of the people that are already calling you. This new release is in line with our development goals of providing small business clients more analytics on calls to make better spending decisions. When you couple Caller Insight with our call tracking services, you can make sure that every dollar spent on advertising is giving you a great return on investment," states Victor D'Aurio, President and CEO of PATLive.
About PATLive
PATLive, headquartered in Tallahassee, FL, is a provider of hosted phone numbers, voicemail, auto-attendants, Internet fax accounts, and other telephone answering services. PATLive's services are easily configured to meet the needs of any business. Automated systems deliver the latest technology in call routing, tracking, and reporting while live receptionist services answer 90% of calls within 20 seconds. PATLive's customer care representatives are available 24-hours a day. More information is available at http://www.patlive.com.
Editors Note: The correct usage of the PATLive name combines upper and lower case as shown.
PATLive is a registered trademark of ATG Technologies, Inc. Any other trademarks mentioned are the property of their respective owners.
PATLive contact:
Victor D'Aurio
President & CEO
Phone: 800.833.9260
Email: victor(dot)daurio(at)patlive(dot)com
###