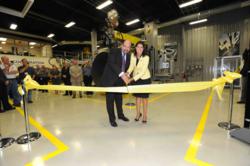 [ESAB] took the challenges, they took the risks.
Florence, SC (PRWEB) September 11, 2011
ESAB Welding and Cutting Products opened a new automation process center at its Florence, South Carolina facility on Monday, August 29. The new 5,000 sq. ft. showroom includes a demonstration area, training room and meeting facilities all focused on ESAB's welding automation products.
South Carolina Gov. Nikki Haley, South Carolina State Senators Hugh Leatherman and Yancey McGill, and local dignitaries were on hand to celebrate the newest addition to the ESAB facility.
"You have to make sure you're improving your standards so that you can commit to success in the future," said Gov. Haley. "And [ESAB] took the challenges, they took the risks, and they said we're actually going to think 5, 10, 20 years out, and it's incredibly nice to see that coming from a company that understands they're changing with the times, improving with the times."
The demo lab features a range of fully functional automation equipment, including tractors, column and boom equipment, ESAB's new Telbo telescopic beam system, side beam welders, welding gantries, robotic welding systems and fully functional Hybrid Laser Arc Welding System. ESAB offers a broad range of automated welding equipment, cutting systems and material handling systems for high-production manufacturing, especially in the wind tower, pipe mill and bridge/structural steel industries.
"ESAB has been a global leader in the field of automated welding for many years," said Andrew Masterman, president and CEO of ESAB North America. "This new facility will make it easier for us to present our automation solutions to our customers in North America and provide training to help customers maximize the potential of this equipment. It will also help us highlight some of the newest technology available to help make our customers more productive, including tandem twin submerged arc welding, narrow gap welding, friction stir welding and hybrid laser welding."
The newly renovated process center features more than one dozen welding equipment systems ready to demonstrate and prove out customer applications. The center includes everything from simple tractor welding packages valued at approximately $20,000 to hybrid laser systems valued at more than $2 million. In all, the automation process center houses more than $3 million worth of demonstration equipment.
"This is a state-of-the-art Automation Process Center. This is the only place in the world where can you see adaptive control on welding," stated Masterman.
ESAB invested more than $500,000 to fully renovate the process center located in the Florence manufacturing facility, which is staffed by 12 employees in sales, engineering, and customer support.
"Our goal is to help the customer by training personnel, helping them improve their productivity, and prove out new applications that they face in today's changing marketplace," said George Learmonth, Vice President of Automation for ESAB North America. "At this automation process center we are able to showcase ESAB's complete line of automation equipment and filler metals."
A series of customer symposia are planned to introduce the new facility to customers in key markets. These will include presentations by industry experts in each field as well as demonstrations and presentations by ESAB staff.
ESAB Welding & Cutting Products is one of the world's largest and most experienced manufacturers of welding and cutting equipment and welding filler metals. Recognized as the technological leader in the industry, ESAB is committed to providing cost effective solutions for its customers. For more information, visit http://www.esabna.com or call 1-800-ESAB-123.
# # #