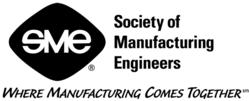 Manufacturers both large and small can discover solutions, opportunities and people who can help them expand their businesses.
Dearborn, MI (PRWEB) September 12, 2011
Anyone who has turned on a television, opened up a newspaper or spent time on the Internet recently knows that the United States' credit rating was downgraded for the first time in history. While this adds uncertainty to the nation's fragile economic recovery, many manufacturers recognize it is more important than ever to stay up to date with the latest technologies, processes and management strategies to maintain profitability.
Thousands of manufacturers who are seeking to be more efficient and competitive will gather at SOUTH-TEC 2011 at the Charlotte Convention Center, Charlotte, N.C., October 11-13 to ensure they have the technology, innovations and ideas to succeed and join the supply chains of new or growing industries.
Organized by the Society of Manufacturing Engineers (SME) for the past three decades, SOUTH-TEC is the region's premier manufacturing event. SOUTH-TEC 2011 focuses on the region's medical, automotive, heavy equipment, aerospace and green energy industries. During its three-day run, SOUTH-TEC will present attendees with a complete picture of Southeast manufacturing. These five industries are considered high-growth, and are the future of manufacturing within the region. Manufacturers' continued success and their ability to adapt to changes are crucial for them to retain their employees in unsettled economic times.
Some 200 industry-leading exhibitors are expected, showcasing the very latest equipment, methods and services that manufacturing has to offer. The "Emerging Technology Showcase" highlights micro, nano, and additive manufacturing technologies and techniques and the impact they are having on growth industries. An exposition such as this also facilitates an environment of networking and new business contacts.
This year's event features two prominent members of the Southeast manufacturing community as keynote speakers. On Tuesday, October 11, William J. "Willy" Geary, director of Midbody Assembly for Boeing South Carolina, and a past president of SME, discusses the construction of the 787 Dreamliner – Boeing's long-awaited jet airliner jet. On Wednesday, October 12, James P. Brophy, operations manager, Building Construction Products for Caterpillar Inc., offers insight to his company's vision of future growth and the dynamic resurgence of manufacturing trends globally and in the Southeast.
"Events like SOUTH-TEC are so important to the manufacturing community for so many reasons," said Mark C. Tomlinson, CMfgE, EMCP, executive director and CEO for the Society. "Some of the top companies in the region will be demonstrating cutting-edge technology and techniques. Manufacturers both large and small can discover solutions, opportunities and people who can help them expand their businesses."
Manufacturers who have oversees plants or are possibly considering moving operations offshore may be surprised about the hidden costs of doing so. Harry Moser, founder of the Reshoring Initiative, will host a lunch and learn on the Reasons for and Benefits of Local Sourcing. He will help attendees understand the impact of pipeline and surge inventory on just-in-time operations, how clustering manufacturing near R&D facilities enhances innovation and how to reduce the Total Cost of Ownership (TCO).
For event details and registration, visit southteconline.com.
SME News Feed:
To receive the latest up-to-the-minute SME news, subscribe to RSS at http://feeds.feedburner.com/sme.
About SME:
The Society of Manufacturing Engineers (SME) (http://www.sme.org) is the premier source for manufacturing knowledge, education and networking. Through its many programs, events, magazine, publications and online training division, Tooling U, SME connects manufacturing practitioners to each other, to the latest technologies and to the most up-to-date manufacturing processes. SME has members around the world and is supported by a network of chapters and technical communities. A 501(c)3 organization, SME is a leader in manufacturing workforce development issues, working with industry, academic and government partners to support the current and future skilled workforce.
###