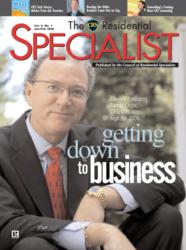 What does it matter if you have the best website in the world if nobody knows that you're there?
Salt Lake City, UT (PRWEB) September 13, 2011
WebsTarget's high-ranking SEO success for Realtors also caught the eye of Fox News Correspondent and Beverly Hills real estate mogul Connie De Groot, who interviewed WebsTarget President Randy Eagar on educating her viewers on how agents can implement Real Estate SEO strategy into their own businesses and immediately increase leads and sales.
Eagar shared with De Groot a few tips on how smaller agents with standard template websites can destroy competition using an SEO-optimized website. "Agents can make up to $100,000 from their websites by implementing Real Estate SEO strategy. By updating their websites and blog sites with new content and linking them on a regular basis, agents can achieve a significant return on investment in six to eight months."
According to National Association of Realtors® (NAR), 90 percent of buyers search the Internet first for home buying needs. In addition, the same NAR statistics showed that the higher the ranking the agent has on Google or similar search engine, the more likely the buyer searching on the Internet will choose that agent and / or agent's property.
Eagar added, "By optimizing the WebsTarget website using our own Real Estate SEO approach, we were instantly able to get our company found on Google in the number one spot. By practicing what we preach and understanding that websites rise and fall in ranking depending on content, we have been able to increase sales by 30 percent in just the last few weeks."
About WebsTarget
Founded in 2002, WebsTarget is a Real Estate SEO and website positioning services company. Real estate agents who utilize WebsTarget's online optimization services achieve top search engine position, develop successful online marketing campaigns and increase sales.
To learn more about WebsTarget and Randy Eagar, visit http://www.WebsTarget.com or call 800.277.1316. Eagar can also be found on Facebook at http://www.facebook.com/webstarget and Twitter at @randyeagar.
EDITOR'S NOTE: Randy Eagar is available as a source on real estate web technology and social media topics. Images are available upon request.
###