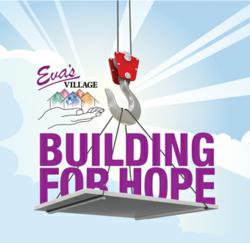 Paterson, New Jersey (PRWEB) September 12, 2011
Eva's Village (http://www.EvasVillage.org), a comprehensive New Jersey anti-poverty charity, will honor TD Bank at its 2011 Annual Benefit Gala. The widely respected anti-poverty organization will also recognize the construction companies and contractors who have helped to make Eva's Village the most comprehensive charitable organization serving New Jersey's poor.
After almost thirty years of providing everything from free meals to New Jersey's hungry, shelter to New Jersey's homeless and intensive inpatient treatment for New Jersey's addicted, the programs offered at Eva's Village continue to increase. On many days, Eva's Kitchen, one of New Jersey's largest soup kitchens, feeds more than 450 people in a beautiful light filled dining hall originally built for a capacity of 240. Because of the increasing need caused by unemployment and the housing crisis, Eva's Village will soon complete a kitchen expansion increasing seating capacity to 400. Over the past three years, Eva's Village has opened a Halfway House for Mothers with Children allowing the family to heal together rather than be torn apart by the mother's addiction and the first peer-driven New Jersey Recovery Center, providing a wide array of services to assist those recently recovered to sustain their personal progress. And 50 units of safe, beautiful and affordable housing have recently been made available to low income residents of Paterson, NJ with the construction of Eva's Village Apartments, opened in December of 2010.
Donna Marie Fico, Chief Marketing Officer at Eva's Village, notes that the 2011 Benefit Gala for Eva's Village is subtitled Building for Hope. "We feel it is important to recognize those who have helped Eva's Village to expand and meet the growing need in our community," states Ms. Fico. She points out that through almost three decades of service, Eva's Village has established a unique record in facing community challenges and changing the lives of New Jersey's hungry, homeless and addicted. The model anti-poverty charity now includes fourteen integrated programs housed in numerous buildings spanning several city blocks in downtown Paterson. Each year, the Eva's Village Annual Benefit Gala provides a critical funding source to the many programs that make Eva's Village so critical to those in need, and each year the progressive organization strives to provide interest and value. A "virtual tour" is provided in a "Visit the Village" exhibit, which this year will highlight new and newly expanded programs. Starting in 2010 handheld BidPal® devices are provided to every attendee to make silent auction bidding fast and fun.
"We feel fortunate to have the support of so many and are grateful for their faith in our efforts to help the poor," states Sister Gloria Perez, Executive Director. To demonstrate that Eva's Village meets donor expectations, she reports that the organization consistently receives high marks for efficiency, including a fourth consecutive Four-Star rating by Charity Navigator, indicating that Eva's Village "Exceeds industry standards and outperforms most charities in America" (Charity Navigator). Only 9% of the charities rated by Charity Navigator have received at least 4 consecutive 4-star evaluations.
For more information on the "Building for Hope" Gala Dinner (October 25, 2011), honoring TD Bank and the construction companies and contractors who have made Eva's Village what it is today, contact: Joey Mazza, Special Events Coordinator – Phone: (973) 523-6220 Ext. 235 Fax (973) 825-7297. The Eva's Village Annual Benefit Gala will be held at Mayfair Farms, West Orange, New Jersey.
To donate to this NJ Charity, or for more information about Eva's Village, call (973)-523-6220, go to http://www.evasvillage.org or write to: Donna Fico, Chief Marketing Officer, Eva's Village, 393 Main Street, Paterson, NJ, 07501.
###