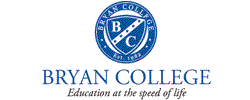 Bryan College has stood strong in support of our community for close to 30 years.
Springfield, Mo. (PRWEB) September 09, 2011
Ten years ago on September 11, everything changed in a matter of moments. The events of that day forever altered America. Bryan College in Springfield, Mo., will remember the victims and the heroes who touched our hearts that day by recognizing the first responders, police, firefighters and military personnel who helped in the rescue and recovery.
The students, faculty and staff of Bryan College will join these heroes in commemorating the 10-year anniversary of 9/11with a series of memorial banners. The entire community is invited to visit the Springfield campus Sept. 12-13 to sign the banners to remember and to thank those who gave so much on that fateful day.
The Springfield Police Department along with Springfield Fire Department Stations 1, 7 and 10 will also present the U.S. flags in a brief, formal celebration at 10 a.m. on Thursday, Sept. 15, at the Bryan College campus, located at 4255 Nature Center Way.
"Bryan College has stood strong in support of our community for close to 30 years," said Brian Stewart, Bryan College President/CEO. "We felt it was important to show our support to our local police departments and fire stations for the sacrifices they make on our behalf every single day. The banners are our way to give them a visual representation of what they mean to us."
Join Bryan College in reflecting on everyone affected by those tragic events. Together, we can commemorate the event and everyone who made a difference on that day. We will never forget.
For more information, please contact Brian Stewart, Bryan College President/CEO, at (417) 862-5700.
About Bryan College
Since 1982, Bryan College has prepared students with the specialized skills needed to secure rewarding careers. All of the School's programs are designed to stimulate an on-the-job training experience by providing modern classroom facilities and experienced instructors with years of professional knowledge. Bryan College has locations in Rogers, Ark.; Columbia, Mo.; Springfield, Mo.; and Topeka, Kan. For more information about Bryan College, visit http://www.bryancollege.com. Programs are also available online at http://www.bryancollegeonline.edu.
###