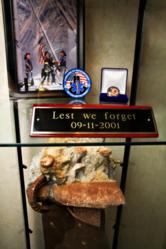 "A large number of EMS students pass through our halls every day and see the memorial," said Gifford Saravia, director of the academy. "It reminds all of us of the risks and responsibilities that we share in this line of work.
Lafayette, LA (PRWEB) September 09, 2011
On September 11, 2001, the first attack on the World Trade Center occurred at 8:46 a.m. Eastern time. In honor of all who gave their lives, Acadian Ambulance Service will broadcast a moment of silence at 7:46 a.m. Central time Sunday from its three communications centers in Lafayette, La., and in Austin and Beaumont, Texas.
The following message will be broadcast:
"In conjunction with all memorial services across the nation regarding the 10th anniversary of 9/11, this company will observe a moment of silence in honor of all first responders who made the ultimate sacrifice and gave their lives in the line of duty on September 11, 2001. This moment of silence will conclude after 60 seconds."
Acadian also is honored to announce the permanent display of a large beam of steel from the World Trade Center. The artifact is at the National EMS Academy on North University Avenue in Lafayette.
The public memorial "to the victims and heroes of 9/11 is a powerful way to ensure their memory lives on in your community," Lee Ielpi, president of the September 11th Families Association, said in a statement.
The artifact was provided by the Port Authority of New York and New Jersey.
"A large number of EMS students pass through our halls every day and see the memorial," said Gifford Saravia, director of the academy. "It reminds all of us of the risks and responsibilities that we share in this line of work. We should never take for granted the evil that exists and the possibility that something like this could happen again."
###