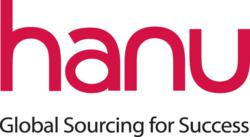 Our strong growth in a relatively short period of time speaks volumes not only about our talented workforce, but the faith our customers have in our ability to deliver high-quality integrated outsourcing services to them
Princeton, NJ (PRWEB) September 10, 2011
Hanu Software Solutions, Inc. of Princeton, NJ has been honored with recognition from Inc. Magazine in its selection of "Top IT Services Companies on the Inc. 5000." The company is ranked #164 in the IT Services industry and #1432 overall.
Hanu Software, one of the fastest growing IT services companies in the country, provides high-quality integrated outsourcing services to independent software vendors, enterprises and startups. Some of their key services include offshore software development, cloud application development, mobile application development, offshore software testing and business process outsourcing (BPO).
"We are absolutely thrilled to be recognized as one of the fastest-growing companies during a struggling economy," said Anil Singh, founder and CEO of Hanu Software. "Our strong growth in a relatively short period of time speaks volumes not only about our talented workforce, but the faith our customers have in our ability to deliver high-quality integrated outsourcing services to them."
Each year, Inc. Magazine releases the Inc. 500|5000 rankings with a comprehensive look at the fastest-growing, independent companies in the nation. The list represents an important segment of the economy, spotlighting entrepreneurial companies that spur innovation and drive the economy forward.
"Now, more than ever, we depend on Inc. 500/5000 companies to spur innovation, provide jobs, and drive the economy forward. Growth companies, not large corporations, are where the action is," says Inc. magazine Editor Jane Berentson.
Complete results of the Inc. 5000, including company profiles and an interactive database that can be sorted by industry, region, and other criteria, can be found at http://www.inc.com/5000.
About Hanu Software Solutions, Inc.:
Leveraging best in class people, processes, and technologies, Hanu Software provides high-quality, high-value software development and business process outsourcing services to independent software vendors (ISVs) and enterprises. Founded in 2002, Hanu Software is dedicated to developing effective outsourcing partnerships with clients in order to accelerate time to market, reduce operational cost and empowering them to devote more time to their core business. For more information, visit http://www.HanuSoftware.com
###