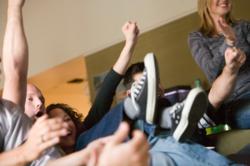 Offering a wide variety of viewing choices, from TV shows to favorite movies, musical performances and more, RCN ensures their customers' various viewing interests will be satisfied.
Lehigh Valley, PA (PRWEB) September 13, 2011
Cable TV service in the Lehigh Valley just got a whole lot better. RCN, the leading telecommunications provider in the Lehigh Valley area, is proud to announce to those who are avid watchers of sports, TV sitcoms or movies that they are now offering over 100 High Definition channels, more than ever before. This exciting service offering is sure to please both new and current RCN subscribers, not to mention assert RCN as the stand alone, best choice provider for high definition TV programming in the area.
RCN will now include up to 118 HD channels in their Lehigh Valley HD cable bundles, allowing subscribers to view all of their favorite TV shows and movies at up to 10 times the clarity of standard definition. Up to 78 HD channels are free for all customers when ordering cable with an HD converter box instead of a standard box. RCN's HD channel expansion distances itself from other local cable providers in Lehigh Valley, with the closest competitor now offering only 64 HD channels. If this statistic is not illustrative of RCN's dedication to consistently provide the best HD cable product to its Lehigh Valley customers, subscribers can also be excited about the 28 Premium movie channels in HD, included with their monthly subscription to the premium channel. Each premium movie channel from HBO to Showtime offers On Demand options featuring original shows, bonus features, sneak peeks and more. All interested persons are encouraged to visit RCN's website to view the specific HD channel lineup available in their service area.
In addition to being the leading Lehigh Valley Internet provider and source for cable TV and phone services, many people might be surprised to learn that RCN also offers hundreds of HD On Demand selections, including many at no additional charge. There are currently over 2,500 hours of free HD On Demand programming available, allowing customers to watch exactly what they want, whenever they want. Offering a wide variety of viewing choices, from TV shows to favorite movies, musical performances and more, RCN ensures their customers' various viewing interests will be satisfied. All customers need is an HD-ready television and an HD, HD/DVR or TiVo Premiere converter from RCN; no HD DVD player is necessary. The content is all there waiting to be enjoyed at any time through an existing cable connection.
In addition to the complimentary HD On Demand programming, the latest in newly-released movies are also available to order instantly. Customers can order movies easily with the touch of a remote. Just in case an unexpected circumstance occurs, preventing viewers from watching the ordered movie right away, RCN offers unlimited access to the purchased selection for 24 to 48 hours. When shopping for quality cable programming, the value and added convenience of RCN's On Demand programming is something not to be overlooked. Viewers can pause or rewind On Demand content, allowing everyone to appreciate the theater experience at home, removing the problem of missing any on-screen action.
RCN customers, whom have just purchased a beautiful HDTV supporting the latest in 3D technology, should be pleased to learn that they now have full access to 3D On Demand Movies. With RCN's 3D movie selections, subscribers can now enjoy the thrilling depth enhancement 3D provides in their own home. In order to view the 3D On Demand programming, customers will need one of RCN's HD or HD/DVR receivers connected to a 3DTV via an HDMI cable and 3D glasses.
This wealth of new HD TV programming offered by RCN Lehigh Valley guarantees both existing and prospective customers need look no further for the best value in quality family entertainment, blockbuster movies and original series available.
To learn more about High Definition cable service in the Lehigh Valley or 3D On Demand viewing requirements, visit http://www.rcn.com/lehigh-valley/digital-cable-tv/digital-extras/high-definition-expanded.
About
RCN Telecom Services, LLC (http://www.rcn.com) is a privately-held competitive broadband services provider delivering all-digital and high-definition video, high-speed internet and premium phone services to residential and small-medium business customers. RCN's primary service areas include Washington, D.C., Philadelphia, Lehigh Valley (PA), New York City, Boston and Chicago.
###