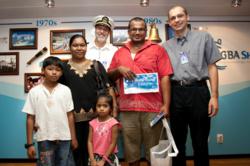 It is still my prayer, vision and aim that every single person coming on board Logos Hope will see something of God and will take one step closer to Him.
Penang, Malaysia (PRWEB) September 12, 2011
OM Ships International - Just 13 months after welcoming the millionth visitor in Liberia, the crew and staff of Logos Hope received her two millionth visitor on the afternoon of Saturday, September 3rd, 2011 during the visit to Penang, Malaysia.
Mahavishnu Veerasingam, a businessman from Penang, and his family were welcomed at the gangway by Captain Tom Dyer and Director Gian Walser. Mahavishnu received a bag of Logos Hope merchandise and a gift voucher to spend in the ship's onboard book fair. He was joined by his wife Malina, son Mahvandra, age six, and daughter Trishika, age four. Captain Dyer gave a personal tour of the ship to the family, who were surprised but pleased at the attention they received. Mahavishnu said that the family was interested in buying children's books and cooking books for his wife. Not expecting to be treated specially, he commented, "I think I am the luckiest person!"
"Just a bit more than one year after the one millionth visitor it is truly amazing to see how many people are coming to the ship," said Director Gian Walser. "It is still my prayer, vision and aim that every single person coming on board Logos Hope will see something of God and will take one step closer to Him."
As the fourth ship operated by the organization, Logos Hope launched into active service as the flagship bringing knowledge help and hope to the people of the world on February 19th, 2009. Since then she has visited 53 ports around the world, from Europe to the Caribbean, West Africa to the Middle East and now into Asia. In every port the desire for knowledge through the quality literature available in the onboard book fair is clearly seen. On one day in Galle, Sri Lanka alone, over 16,000 people came on board the vessel to have the opportunity to purchase a book and meet the international crew and staff who represent over 45 different countries. Thousands of visitors come aboard every day the ship is open and over 2.7 million Christian and educational books have been distributed through the ministry of Logos Hope so far.
Opportunities to bring help through practical projects in the communities the ship visits are also plentiful. From building projects to medical and dental clinics to library assistance initiatives and more, crew and staff work with local organizations to meet these needs.
Four year old Hasitha lives in poverty under the care of his grandparents in a community in Sri Lanka. In partnership with a local charity, a team from Logos Hope helped construct a house for this family. Through this involvement they realized how much more the family needed and so a mattress and bedding was provided and, more importantly, a water filter was installed. This simple system will ensure that Hasitha and his family no longer have to rely on the goodwill of their neighbor to provide clean water or go without. This filter allows them to purify the previously undrinkable water from their own well and ensures a healthier future for Hasitha.
The present visit to Penang, Malaysia was moved earlier in the schedule due to a recent breakdown of one of the generators on board. Combined with a current critical need for marine engineering staff, this challenge has required much effort and funding to keep the doors open to the public. To ensure ongoing compliance for the vessel to keep sailing further, it was required that the ship sail to Penang to make the repairs and those are now underway. However, the need for a long-term Chief Engineer and a First Engineer as soon as possible is still critical and any suitable candidates are requested to contact the organization by visiting the marine engineer information page at http://www.omships.org/engineers.
For latest news and further information including the future port schedule, visit OM Ships International.
To support the ongoing ministry of Logos Hope at this critical time, please give online at http://www.omships.org/donate or contact your local OM office through http://www.omships.org/contactus
ABOUT OM SHIPS INTERNATIONAL
OM Ships International (OMSI) exists to transform lives by bringing knowledge, help and hope to the people of the world. OMSI pioneered the concept of using ships to transport literature, humanitarian aid and people resources. The organization's ships are well known for their work providing educational and Christian literature in ports around the world.
OMSI began in 1970 as part of the global Christian training and outreach movement, OM International. On board Logos Hope the crew and staff of 400, including professional seafarers, are all non-salaried volunteers. With over 45 different nationalities represented, the onboard community is a fascinating expression of cross-cultural living and understanding that reflects the church around the world. Crewmembers are unified by their faith and goal to share God's love as they serve in port communities. The ship remains in port for several weeks and opens to thousands of visitors every day.
Over one million visitors come on board each year to browse the hallmark of the Ship Ministry—a large floating book fair with over 5,000 titles in stock, including books for university studies, professional and career interests, history, science, economics, language learning, hobbies, novels, children's stories, biographies, dictionaries, atlases and a wide variety of Christian resources, including Bibles, study materials and books on Christian living.
The ships also bring aid and relief to needy people and places around the world. Crewmembers go ashore to provide medical aid, help construct schools, orphanages and homes, and give gifts of food, clothing and books. Teams also visit hospitals, orphanages and prisons to share God's compassion and love.
Since 1970, over 40 million people have visited the ships during more than 1,400 port visits in 162 nations. People from all walks of life, from presidents and prime ministers to street children and the homeless, have been welcomed on board.
OMSI's operational costs are met by sponsorship of onboard personnel, general donations and gifts, reductions and waivers of fees by civic and port authorities, book sales, and corporate support in each port of call.
Logos Hope is operated on behalf of OMSI by GBA Ships e.V. (formerly Good Books for All), a private, non-profit, entity registered in Germany.
A wide range of images are available. For further information and images please contact us:
Jon Crowe
Florence, South Carolina, USA
Tel: +1 843-758-0083 (Mobile), +1 843-679-1862 (Office)
Email: jon.crowe@gbaships.org
Ken Miller
Mosbach, Germany
Tel:+49-(0)173-679-3540 (Mobile), +49-(0)6261-9263-0 (Office)
E-mail: communications.mosbach@gbaships.org
Internet: http://www.omships.org
###