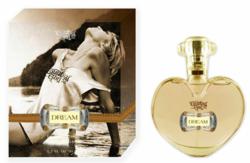 Blacklick, OH (PRWEB) September 13, 2011
"The feeling of freedom..... possibilities..... femininity. Be whatever you dream, on your terms." Those are the exciting emotions inspired by the new fragrance "DREAM" launched by Country Girl apparel brand.
The uniquely designed perfume is made from select components of the highest quality. "DREAM" consists of a top note burst of fruits - wild strawberries, tropical guava, luscious passion fruit, juicy clementine; followed by pretty floral notes of baby roses, country lilies, vanilla crystals and mandarin – accented by tea rose and jasmine, with a warm amber base.
Riding the wave of popular social networking websites like FaceBook, Ohio-based fashion brand Country Girl has reached over 130,000 fans by connecting directly with their customers. The "country girl" attitude has reached a sub-culture status and it is this base of loyal aficionados the "DREAM" fragrance is sure to inspire, as well as brand loyalists the world over via select retail outlets.
The fast-growing company cites the essence of their brand as "a romantic, independent spirit with a bit of sass who is down to earth, confident and genuine."
"Country is really a state of mind, a love of nature and classic style. It's not who you are or where you live; it's how you feel, and the quiet confidence that comes with being completely at ease with who you are. Country Girl brand clothing expresses that sentiment whether you live in Nashville, L.A. or the Hamptons".
Country Girl is a successful fashion brand based in Blacklick, Ohio with direct sales to consumers on their website http://www.countrygirlstore.com , Facebook.com/countrygirl and wholesalers throughout the U.S., Canada, Australia and Spain.
For more information on Country Girl and their new "DREAM" fragrance, please contact Larry Levine at 614-522-6100 or email llevine(at)artbrandsdot)com.
###