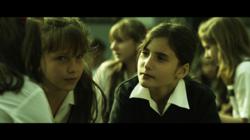 The festival is a showcase of the latest work produced by Latin American and US Latino filmmakers.
San Francisco, CA (PRWEB) September 10, 2011
The Opening Night film of the SFLFF will present BEING: Cafe Tacvba (Mexico) by Ernesto Contreras and Jose Manuel Cravioto, a documentary following the iconic Mexican rock band as they tour and give us a peak to the dynamics behind the scenes of their lives on tour and the relationship they have that has kept them going for 20 years. Also screening, All She Can by Amy Wendel, part of the Maya Indie Film Series.
The SFLFF program includes award winning and critically acclaimed documentary and feature films from Mexico, Guatemala, Chile, Colombia, Brazil, Cuba, Panama, Chile, Argentina, Venezuela and the USA. Local and visiting filmmakers from around the country and Latin America are attending.
The festival will present notable Mexican films including Hell (Mexico) by established filmmaker Luis Estrada- a blockbuster, wickedly dark political satire about Mexico today starring Damian Alcazar and A Stone's Throw (Mexico) by Sebastian Hiriart, making his directorial debut in this indie film about a restless goat herder going off on a road trip with stops in San Diego and San Francisco after finding a key chain in the desert. Other films include: F*** My Life (Chile) by Nicolas Lopez- a fun romantic-comedy in the age of texting and Facebook. Precious Knowledge by Ari Palos- a timely documentary that examines the substance, controversy, and eventual banning of high school ethnic studies programs in Arizona. Blattangelus (Mexico) by Araceli Santana, Photos of Angie (USA) by Alan Dominguez, Three Drops of Water (USA/local) by Jose Alfaro and Marco Castro-Bojorquez, and Soulbound (Brazil) by Caioh Soh are part of the festival's LGBT program. The Bad Intentions (Peru/Argentina) by Rosario Garcia-Montero, Following the Stars (Ecuador/Panama) by Iris Disse, Habana Eva (Cuba/Venezuela) by Fina Torres, and Capsules (Guatemala) by Veronica Reidel underscore the strong surge of highly acclaimed films made by Latin American women.
Santiago (USA) by Felix Martiz; The Healer (USA/local) by Consuelo Alba; Conscientious Objector (USA) by JW Cortez; Mago (USA/local) by Maria Victoria Ponce; The Old Bicycle (USA/local) by Claudia A. Escobar, and Oakland-made MLK Jr. Way by Eliseo Cabrera and Kara Cohen are a few of the US Latino short and feature films included in this year's selection.
Calendar Editors Please Note:
What: San Francisco Latino Film Festival
Where: SAN FRANCISCO
When: Sept 16-18 Landmark's Embarcadero Center & Opera Plaza Cinemas
Sept 16 Opening Night at Landmark's Embarcadero Center Cinema, BEING: Cafe Tacvba
Sept 17-18 Landmark's Opera Plaza Cinema in San Francisco
WHERE/WHEN:
Sept 21& 25 IcTus Gallery in San Francisco
Sept. 22-24 Mission Cultural Center in San Francisco
Sept 25 The Brava Theater in San Francisco
MARIN
Sept. 20-21 College of Marin
SAN JOSE
Sept. 19-20 MACLA
BERKELEY
Sept. 20 Pacific Film Archives
WHAT: San Francisco Latino Film Festival
WHERE/WHEN:
Sept. 16, 7:00PM Opening Night: BEING: Cafe Tacvba, Landmark's Embarcadero Center Cinema, San Francisco
Sept. 16 7:15PM DeYoung Museum, San Francisco
Sept. 17-18 1PM-11PM Opera Plaza Theater, Screenings, San Francisco
Sept. 19-20 7PM MACLA, Screenings, San Jose
Sept 20 7PM Pacific Film Archives, Screening, Berkeley
Sept. 21 7PM IcTus Gallery Screening, San Francisco
Sept.22-24 3-10PM Mission Cultural Center, Screenings, San Francisco
Sept. 20-21 12:30PM College of Marin, Screenings, Marin
Sept. 25 1PM Brava Theater Screening, San Francisco
TICKETS: http://www.brownpapertickets.com//producer/1677 or by phone 1-800-838-3006
INFO: http://www.sflatinofilmfestival.org or call 415-826-7057
As this year's Film Festival coincides with Hispanic Heritage Month, we invite the community to an open reception and Festival kick-off with CBS/5 and The CW/44 Cable 12 on Wednesday, September 14, 2011 from 5:30pm - 7:30 pm. To attend RSVP by September 7th:
http://cbs5cw44hhm2011.eventbrite.com
About Cine+Más SF
Cine+Más SF contributes to the Bay Area's active and diverse arts scene through the San Francisco Latino Film Festival, year round programming and special events centered on the celebration of Latino arts including the visual, performance, and literary arts. Sponsors, collaborators, and supporters include Continental, KQED, KPFA, JCDecaux, Levi's, Telemundo, Macy's, CBS5/The CW 44/Cable 12, Clear Channel Radio, IcTus Gallery, and UC Berkeley's Latin American Studies Program.
Our mission for the SFLFF, a volunteer run and produced program, is to showcase and promote, the work of emerging and established filmmakers from the US, Latin America, and the Iberian Peninsula. The SFLFF runs September 16-25, 2011 in San Francisco, San Jose, Berkeley and Marin. Venues include Landmark's Embarcadero Center & Opera Plaza Cinemas, the DeYoung Museum, The Mission Cultural Center, IcTus Gallery, MACLA (San Jose), and College of Marin (Marin). For additional program information please visit http://www.sflatinofilmfestival.org or call 415-826-7057. For tickets visit http://www.brownpapertickets.com or call 1-800-838-3006. Become a Facebook fan: latinofilmfestival or Follow us on Twitter at SFLatinoFilm
###