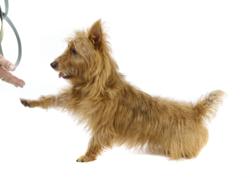 Thank you so much for doing this!...Our crazy dog Olive was absolutely full of "personality"...You're wonderful to help with this cause!
Pasadena, CA (PRWEB) September 13, 2011
The Dog Days 2011 fundraiser this last Saturday proved to be a success for local photographer, Linnea Lenkus. Pet owners and enthusiasts showed true spirit and generosity by bringing their furry friends for a photo op and a donation for the local animal shelter. Their kindness will help prevent euthanasia by donating to programs that educate people about caring for their pets, adoptions, and spaying and neutering.
"My back is sore today, but it is well worth it. I was in such wonderful company yesterday in my Pasadena studio. I saw many amazing dogs and loving owners. So many dogs were so cute, some were well-behaved, some were full of personality, and others told a story with their eyes. I ended the day with a lovely rescue dog whose owner told me 'wasn't going to last long," Linnea says.
This event was the first one of three.The next event opens at 9:30 am in Irvine September 17th, and then in Long Beach September 24th. Session times are limited and are available by appointment only. Call the main office to set up an appointment in the studio of your choice 562-981-8900.
Portrait sessions are $25 and include:

15 minutes with photographer Linnea Lenkus
One 5x7 print
10% of additional prints and products ordered will also be donated to the local animal shelter.
*You may upgrade your print size with a larger donation or if you provide a receipt of your rescued dog, you will automatically be upgraded. Your rescue will have the opportunity to be featured in the upcoming Linus Gallery Exhibits.
"Thank you so much for doing this! We had a great time and can't wait to see the images. Our crazy dog Olive was absolutely full of "personality. You're wonderful to help with this cause! (I'm glad that last dog will be remembered with a beautiful portrait)." Suzanne McClure (SOURCE: Facebook)
About Linnea
Linnea Lenkus is a highly experienced, internationally published, professional photographer with worldwide commercial success. In a photography session with Linnea, clients receive the benefit of her artistic eye and her technical mastery honed over decades of photography experience. Her staff of specially trained photography experts oversees every step of the process to ensure her clients have a thoroughly enjoyable experience and receive stunning portraits of the highest quality.
About Euthanasia
According to The American Society for the Prevention of Cruelty to Animals (ASPCA), approximately 5 million to 7 million companion animals enter animal shelters nationwide every year, and approximately 3 million to 4 million are euthanized (60 percent of dogs and 70 percent of cats).
Five out of ten dogs in shelters and seven out of ten cats in shelters are destroyed simply because there is no one to adopt them. (SOURCE: ASPCA)
If you would like to offer news coverage or advertising for this event, please contact:
Karen Beach
Linnea Lenkus Fine Art Portrait Studios
562-981-8900
###