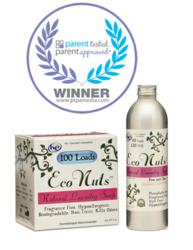 Both forms of Eco Nuts detergent received high marks with the PTPA testers for their ease of use, cost, environmental friendliness, and effectiveness.
Los Angeles, CA (PRWEB) September 13, 2011
Eco Nuts soap nuts and liquid laundry detergent have been awarded the coveted Parent Tested Parent Approved (PTPA) Seal of Approval. Winners are chosen from hundreds of submissions by a panel of parent and professional reviewers.
Eco Nuts detergent is available in both soap nut and liquid soap nut forms. Soap nuts, which are actually soap berries, grow on the Sapindus mukorossi trees in the Himalayas. Eco Nuts' soap nuts are harvested in the wild by local farmers and certified organic where they grow. When a handful of Eco Nuts soap nuts are placed in a cotton bag and tossed in with the wash, they lift dirt and smells from both regular clothes and stinky items like cloth baby diapers, baby clothes, sport uniforms and wetsuits.
"We are thrilled to be awarded this important designation," said Mona Weiss, co-founder of Eco Nuts. "It is important to parents that Eco Nuts' products are safe for babies and children and free of toxic chemicals."
The Eco Nuts can be re-used for up to ten loads of laundry before needing to be replaced. Eco Nuts soap nuts and liquid detergent contain saponin, which is a natural cleaner that works as a surfactant, breaking the surface tension of the water to penetrate the fibers of clothing, thereby lifting stains from the fabric and leaving dirt suspended and swept away in the rinse water. The saponin also has a natural softening effect so no other fabric softener is needed.
The new Eco Nuts Liquid Detergent is made from soap nut extract and is more effective in hard water. Eco Nuts Liquid Detergent is a highly effective cleaner, requiring only a teaspoon for a regular load of laundry and a half teaspoon for High Efficiency front-loading machines. Handwashers can use just one tiny thimbleful in their sink with water. This highly concentrated liquid is packaged in recyclable aluminum – making it lightweight to ship and easy to recycle.
Both forms of detergent received high marks from the PTPA testers for their ease of use, cost, environmental friendliness and effectiveness.
As an international leader in certifying consumer products for quality, effectiveness and value, PTPA Media has North America's largest volunteer parent community, with over 40,000 parents. The Winner's Seal is evidence of product excellence as evaluated by unbiased parent consumers. Products are tested by an independent panel of parent volunteers who evaluate products in their own homes to ensure winners are chosen on merit and the consumer experience — not for commercial purposes.
About Eco Nuts: http://www.EcoNutsSoap.com
Eco Nuts is an award winning, clean-rinsing detergent embraced by parents for its effectiveness on cloth diapers and its gentleness on sensitive skin, eczema and psoriasis. Eco Nuts Liquid Detergent and Eco Nuts Soap Nuts contain no dyes, fragrances, fillers, enzymes or optical brighteners and are 100 percent SLS (sodium laurel sulfate) and phosphate-free.
About PTPAMedia.com:
Parent Tested, Parent Approved media (PTPA) matches innovative companies with discerning consumers, creating a testing system that identifies high-quality products and services, by savvy parents and professionals. The results were compiled for PTPA Media Inc.'s review committee for the final decision. The winners of the prestigious Seal of Approval are selected based on value, functionality, quality and appeal of the product. For more info go to http://www.PTPAMedia.com
###