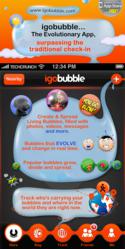 "... more interactive and fluid than ... the likes of Facebook and Twitter." 148apps.com
San Francisco, CA (PRWEB) September 11, 2011
igobubble, a new location-aware social iPhone app has secured funds valuing the start-up company at $2.5 million.
Black Pearl Capital Partners, Ern Capital, and a private investor, have backed Igobubble in its quest to redefine location-aware social networking through interaction with continuously evolving "bubbles".
Black Pearl holds several investments including a stake in gaming giant Zynga, and directed advertising venture Callisto TV. Ern has interests in mobile content distribution, advertising, and digital media platforms.
Billing itself as "the EVOLUTIONARY app", igobubble taps into people's creativity and spontaneity letting users create virtual "bubbles" with their iPhones. The portable bubbles can contain images, thoughts, videos or any kind of digital media. Bubbles can be dropped anywhere. Other users can find the bubbles, copy, clone, edit and move them and all people who interact with a bubble form a people chain. Anyone within the chain can chat for free in real time with anyone else in the chain, allowing people who don't know each other to make new friends.
"We think this is a pretty organic and engaging way to break down the rules of mobile social networking," says igobubble CEO, Kieran Galvin, "but the real fun starts as the bubbles evolve. Bubbles can grow, divide, spread, and go viral, and users can track the bubbles they interact with … and of course connect with all the people who have touched the same bubbles."
C
TO Jade Burton says igobubble surpasses the checking in experience, adding a fun, and slightly more abstract way of meeting people where location is supporting content rather than the next retail deal.
Igobubble is debuting at Techcrunch Disrupt San Francisco (12-14 Sept) and is available for FREE in the App Store.
###