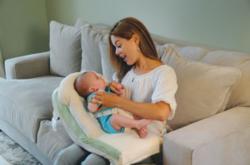 Belmar, NJ (PRWEB) September 12, 2011
In world where complicated, technical advances frequently grab the spotlight, a simple, one-of-a-kind baby product, called Babee Laptime, is literally giving new mothers a helping hand. Babee Laptime, an innovative infant seat system, is freeing moms to embrace their newborns in unprecedented safety and comfort while allowing them to manipulate bottles, toys, pacifiers, books, computers and just about anything else.
"It's so easy to use, it's amazing," says Anthony Garofalo, managing member of Infant Affection, LLC. "Babee Laptime is scientifically designed to both hold a baby on soft foam platform while securing him or her in a five-point harness and fastening around the mother with a reliable waist belt. The results are improved bonding, easier breast and bottle feeding and greater comfort for both mother and child."
Garofalo explains that the bonding process is one of the most important aspects of child development. Successful parent-child bonding can enhance the baby's sense of security and well being while building positive self esteem and forming the basis for future personal relationships.
"Holding your child for longer periods of time in Babee Laptime gives parents the opportunity to respond to their baby's noises and gestures on a face to face basis," he adds. "As a father, I can tell you that holding your baby is just plain fun. Mothers, dads, grandparents and siblings all love to hold the baby. With Babee Laptime older grandparents and younger siblings who may not be as strong as the baby's parents, can hold and feed the newest member of the family with total confidence."
Whether a family is breast feeding or bottle feeding, maintaining the proper feeding angle is important for good digestion. According to Garofalo, doctors recommend that the baby be held at angle between 30 and 45 degrees during feeding and for one-half hour afterwards to avoid baby acid reflux, GERD and colic. Unfortunately, holding the baby at the ideal angle for long periods of time can be very tiring for mothers, especially during late night feedings.
"We've all seen moms wedging themselves into the corner of the sofa or propping themselves up with piles of pillows in an effort to find a comfortable feeding position," comments Garofalo. "Babee Laptime is designed to effortlessly support the child during feeding. Even if a mom or dad dozes off during a late night feeding, baby will be perfectly safe because of Babee Laptime's harness and waist strap system."
Babee Laptime is recommended for infants up to 30 inches in length and weighing up to 21 pounds, making it a popular baby shower gift. Its removable, machine washable cover is available in a variety of designer colors and styles. More information about Babee Laptime is posted online at http://www.babeelaptime.com or you may call Infant Affection LLC at 732-280-2100.
###