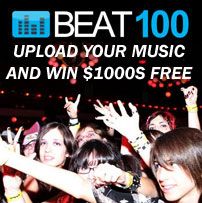 "We want users to still be able to interact with their friends, families and communities on an easy to use format, but also give our users something back by offering them the chance to enter our monthly music and lifestyle video charts."
(PRWEB) September 12, 2011
Beat100 Music and Lifestyle video charts is a completely new and unique video network that reward users and helps talented people gain exposure. The beat100 video charts is for a community of creative people who are passionate about sharing their videos with the world.
Billed as a "Social Video Entertainment Network", Beat100 is the brain-child of CelebPoker.com founder, David Donovan.
"We decided to start Beat 100 because we want to combine the whole social networking and online video experience into one easy to use site."
Inspired by the influx of social networking sites on the internet, Mr. Donovan is keen to "merge the principles of popular social networking site with Beat100's own identity."
He added:
"We want users to still be able to interact with their friends, families and communities on an easy to use format, but also give our users something back by offering them the chance to enter our monthly music and lifestyle video charts."
"Beat100 will be the place to be for social networking. Users can stay connected with friends but also watch videos featuring anything from ballet to BMX tricks."
Beat100 users will have the opportunity to enter a monthly music and lifestyle video chart, which will give users the chance to vote on their favourite video, or even enter a video and take advantage of the monthly cash prize pools which will be on offer.
This completely unique idea to reward users and help talented people gain exposure is all part of Beat100's dedication to a Monthly Music Video and Lifestyle chart, which could earn users up to $2,000 in cash prizes. "Our aim is not for users to simply upload a video and forget all about it. We are aiming to create an online community that encourages talent within societies that too often goes unnoticed."
Beat100 also offers users the chance to download music from a fully integrated and licensed music system whilst also being able to link your statuses and photos to your Facebook or Twitter account to keep all of your online community connected.
###