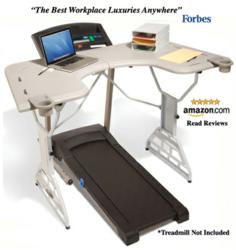 We need to globalize the "exercise is medicine" campaign currently spear headed by the American College of Sports Medicine and Iowa State University
Phoenix, AZ (PRWEB) September 10, 2011
Sounding the alarm bell that preventative measures are critical in stopping rising rates of cancer internationally, the World Cancer Research Fund (WCRF) reported 2.8 million international cancer cases could be averted with campaigns promoting healthy diets and physical activity. TrekDesk treadmill desks tackles the physical activity portion of the solution, allowing individuals to keep moving despite sedentary lifestyles, increasing their chances of restoring health.
International cancer rates have sky rocketed by 20% in less than a decade, with estimates as high as 12 million new cases annually, 4 times the rate of increase in international cases of HIV according to this recent statement from the WCRF.
Marin Wiseman, director or WCRF International, believes the first prong of attack needs to focus on prevention, ""We need to focus on preventing disease in the first place, so that we have the resources to detect and treat the cases that do occur. That's how high the stakes are," he relayed. "If we continue down the same path and do nothing more — with people being less and less physically active and relying more and more on highly processed and energy-dense foods, the problem is only going to get worse."
How effective are simple preventative measures to such a complex problem as cancer? Walking 10,000 steps per day and living a healthy lifestyle would reduce cancer rates in the United States by 30%-70% according to the National Institutes of Health.
"We need to globalize the "exercise is medicine" campaign currently spear headed by the American College of Sports Medicine and Iowa State University," stated Steve Bordey, CEO of TrekDesk Treadmill Desks. "Implementing a 10,000 steps a day initiative and joining forces with Jamie Oliver's Food Revolution would be a great place to start, but we have to take leadership here in the United States first."
Designed to fit any existing treadmill, TrekDesk is an affordable, full sized workstation allowing individuals the opportunity to gain the necessary amount of exercise daily to maintain health, prevent disease, strengthen muscles, boost mood and productivity, without requiring additional time during the day or extra motivation.
Join the TrekDesk "Movement Revolution" to learn more on TrekDesk's Facebook page.
###