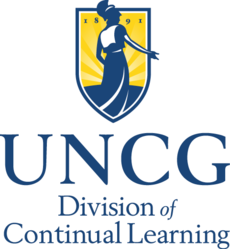 UNCG's growing portfolio of online classes allows the University to extend its reach and span the barriers of time and distance.
Greensboro, NC (PRWEB) September 12, 2011
Online courses make learning more accessible for students, who can take classes from virtually anywhere in the world at any time of the day. But there are also significant advantages for professors – especially those with disabilities.
An example: Two professors with special physical challenges are playing a critical role in UNCG's Bachelor of Arts in Liberal Studies (BLS) online degree completion program.
Douglas McCarty, Ph.D., is deaf. But students in his interdisciplinary course on "Murder, Mystery and Mayhem" don't have a clue. Each highly interactive class is delivered entirely over the Web, supplemented by email and online chat sessions. McCarty is able to easily engage students, review their work and provide feedback to keep them on track as they explore the appeal of mystery and detective stories.
"It is a great teaching environment for me," McCarty said. "I've taught face-to-face, and the main challenge has been lip-reading and reacting quickly enough to student responses."
Ann Millett-Gallant, Ph.D., has had a similar successful experience teaching online for the UNCG BLS program. Born with physical impairments, she relies on prosthetic legs and a scooter for mobility, which can make it frustrating to get around. But she has channeled those experiences in a positive way to bring energy to her life and career.
"My disability is a key aspect of my social identity and of how I perceive my discipline of study," Millett-Gallant says. Author of The Disabled Body in Contemporary Art, she is a recognized authority on the work of disabled artists and their role within art history and visual culture.
Millett-Gallant teaches several online courses in art and photography for the BLS program, including: Photography: Contexts and Illusions, The Art of Life and Representing Women.
"I have students from all over the world, which makes the discussions diverse and lively," she says.
The same geography-spanning feature of online learning makes life easier for McCarty and Millett-Gallant. Both live more than an hour from the university campus, but they are able to teach from the comfort of home.
"UNCG's growing portfolio of online classes allows the University to extend its reach and span the barriers of time and distance," said Robert Brown, dean, the UNCG Division of Continual Learning. "We can offer broader learning opportunities to students and teaching opportunities to professors, regardless of where they are based."
For more information on UNCG's BLS program, visit bls.uncg.edu, email the University at bls(at)uncg(dot)edu, or phone 336.334.4977.
###