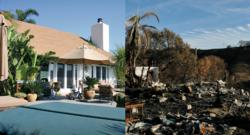 Thousands of homeowners across the U.S. have seen their homes and possessions destroyed from Mother Nature's fury. It's crucial for homeowners in disaster-prone areas to be prepared for any future devastating events with a DocuHome home inventory.
Los Angeles, CA (PRWEB) September 12, 2011
National Preparedness Month is designed to encourage Americans to take simple steps to prepare for emergencies in their homes, businesses, and communities. Disaster can strike at any time without warning and wreak havoc on lives and checkbooks. The Bastrop Fire in Texas has destroyed nearly 1,400 homes and Hurricane Irene's wind and flooding damages may exceed $7 billion in 10 Eastern states (Consumer Federation of America). DocuHome® Home Inventory Solutions wants Americans to get their homes prepared and is offering their home inventory software, a $69 value, free in September.
No one knows better than disaster preparedness expert and DocuHome® CEO Bradford Stanley how to prepare communities for disasters. Stanley launched DocuHome in 2010 after losing his Malibu home in the 2007 wildfires. "It seems like just yesterday that I saw my home go up in smoke in the Corral Canyon wildfires. The lessons that I've learned from that terrifying day was just how unprepared we were for the devastating loss, how under insured we were and how frustratingly difficult it is to itemize our assets and calculate the value of our loss for insurance replacement. We have shaped DocuHome's mission to help people everywhere prepare for the worst, whenever it may come."
DocuHome® has been lauded as one the smartest new technologies and is the most comprehensive, user-friendly, home inventory software product on the market today. The patent-pending photo and tagging system is so easy to use, homeowners can photograph, assign a value, and safely store all of their possessions on-line in hours, not days. A user's inventory can be accessed from any computer, truly making their home inventory indestructible and making the rebuilding process as easy and pain free as possible.
Homeowners assume their insurance will cover the losses but without documentation, claims are only as strong as the inventory list or photos. Current homeowners must be vigilant and responsible for their belongings, "If a loss should occur, a DocuHome home inventory can make the difference between an inadequate restoration of your home and its furnishing and recovering all that is rightfully yours from your insurance policy" says Stanley. He continues, "The most recent tragedy of the ravaging wildfires in Bastrop, Texas cannot be understated, as thousands of homeowners saw the frailty of their homes and possessions. Now, more than ever, it is crucial for homeowners in disaster-prone areas to be prepared for any future devastating events."
Millions of homeowners are facing tragic circumstances to their homes after Irene's floods and the numerous wildfires in Texas, Arizona, and California. Brad Stanley knows firsthand what these natural disaster victims are going through and made it his mission to transform his personal fire tragedy into the innovative DocuHome® software solution to ease the headaches of homeowners' everywhere. Mr. Stanley's loss is America's gift, take control of your home and your finances by creating a free home inventory with the country's best, DocuHome® Home Inventory Solutions and sleep like a baby tonight.
Free DocuHome Home Inventory Solutions Link for September 2011
http://docuhome.com/index.asp?action=POPSIGNUP&PromoCode=TXJANN
About DocuHome® Home Inventory Solutions
Founded in March 2010, DocuHome develops technologies that facilitate the documentation and storing of personal and/or business assets. From the D.I.Y. home inventory entry price point of $69 to the full service solution with a certified DocuHome service provider, a DocuHome home inventory is only a click away. In addition to better disaster-preparation, DocuHome's services are applicable for estate planning, real estate photo tours, property and vacation rentals, divorce settlements, small business inventories, and more.
About Bradford Stanley
Bradford Stanley is the CEO and Founder of DocuHome. A Malibu local, Brad and his family lost their home and all their possessions in a 2007 Southern California wildfire. During negotiations with their insurance company they realized how extremely difficult it is to receive compensation. Now, Brad employs these life changing experiences to make sure that others are prepared ahead of time.
DocuHome® Home Inventory Tagging Video Tutorial
http://www.youtube.com/watch?v=bk9BroDZiNI
Follow Us On:
Facebook: facebook.com/DocuHome
Twitter: @DocuHome
LinkedIn: linkedin.com/in/docuhome
For further information and press images, please visit docuhome.com/pressImages
Media Contacts:
Jann Berman and Lucia Singer, Berman-Singer Public Relations
jann(at)bermansingerpr(dot)com 310-721-2488 lucia(at)bermansingerpr(dot)com 310-666-8108
# # #