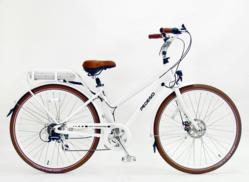 Las Vegas, NV (PRWEB) September 14, 2011
Pedego® the electric bike brand known for sleek styling, comfortable designs and the finest in components unveiled their new City Commuter bike today during a press conference at Interbike 2011 at The Sands Convention Center in Las Vegas.
The Pedego City Commuter is the perfect mode of transportation for people needing a quality electric bike to get them to and from work and up and down hills with ease and reliability. The City Commuter series from Pedego combines smooth lines with a quiet, reliable motor located in the bike's rear wheel. The built-in rear rack allows for the 36-volt 10-amp battery to slide in-and-out and also provides a sturdy base to carry bags or baskets. Additional features include Shimano® gearing, 28" Schwalbe® Fat Frank tires, front disc brakes and Dia Compe rear brakes with a locking mechanism, plus a handy pop-up seat that comes complete with a storage compartment. The new City Commuters are available in various colors and sizes.
Other new designs introduced at the show included 24" varieties of Pedego's Classic and Step-Thru Cruisers, a white version of the Interceptor and the availability of electric bike customization packages for businesses, organizations, brands or universities. There are presently over 60 various color options offered by Pedego but the addition of sunshine yellow that premiered at the show seems to best epitomize the company's tagline "hello, fun!"
About Pedego®
Pedego®, an Irvine, California based company, is fast becoming the market leader by creating the coolest and most fashionable electric bicycles outfitted with the latest in electric bike technology. Through our chic, stylish designs partnered with a built-in electric hub motor, Pedego® offers a cost-effective and green alternative for transportation, exercise and recreation. Pedego® Bicycles are perfect for anyone who enjoys the fun of cycling and experiencing the outdoors. Pedego® "hello, fun!"
###