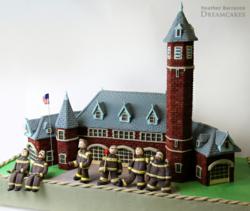 We wanted to use our talent to create a cake to honor the men and women at heart of our community; those that protect us and risk their lives for us daily
South Orange, NJ (PRWEB) September 11, 2011
In honor of the 10-year anniversary of 9/11, Heather Barranco Dreamcakes, a leading New York City cake design studio, created a fondant cake as a replica of the South Orange, New Jersey firehouse and it's local firefighters. Heather Barranco and her team, known for their very creative cakes and custom wedding cakes, felt the need to give back to those who are in constant service of others. "We wanted to use our talent to create a cake to honor the men and women at heart of our community; those that protect us and risk their lives for us daily," states Barranco.
The hand-sculpted edible firefighters on the cake are made in the image of actual local South Orange firemen. "These men were selected to representative the bravery of all those who lost their lives on 9/11," adds Barranco. When Heather approached the local firefighter team with the idea of being featured as part of her cake display, they gave her a tour of the historic building and allowed her to photograph the individual men as inspiration for the edible sugar figurines. "We made the scale of the firefighters larger than the building, to accentuate their importance. When the firemen came to Eden Marketplace to see the finished cake, they recognized each other in gum paste, an edible sugar dough, right away. It was really cool to see how they were excited and proud to be featured on our cake".
Along with honoring fire fighters, adds Barranco, "Our goal was to commemorate the beautiful town of South Orange, paying tribute to its current renaissance, while remembering its heritage. Not only is the Fire Station the most spectacular landmark building in South Orange, but it reminds us of all the great American fire houses across our towns and our nation that have helped keep us safe. Firehouses are symbols of "protection, safety and bravery" for the community, every time we pass their doors. What better time to pay tribute to them than now, remembering all who have protected us in troubled times past and those who protect us today. We take this opportunity, on the 10 year anniversary of 9/11, to honor those firefighters who gave their lives for us."
Creating realistic scale models is not new for Heather Barranco, whose past experience as an industrial designer helped her to approach the firehouse cake like a pro. "Most people would not believe the amount of planning and precision involved in making a cake like this firehouse. Firstly, scaled drawings are made to lay out the cake on paper in great detail. Then translating the 2-D drawing into a 3-D real sculpture requires a lot of patience and experience in architecture and model making. With my level and ruler in hand, it feels more like I'm building a house rather than a cake," adds Barranco " The best part of my job is when we unveil our cakes; I love seeing people's reaction".
The Village of South Orange Fearless Firefighters & Firehouse Cake will be on permanent display at Heather Barranco Dreamcakes located inside Eden Marketplace in South Orange, NJ and will make guest appearances at other Eden Gourmet and Garden of Eden stores across NJ and New York.
More photos of the Heather Barranco Dreamcakes cake gallery can be viewed at http://heatherbarranco.com/gallery-cakes/ or learn more about the company at http://www.heatherbarranco.com. For cake inquires Heather Barranco Dreamcakes can be reached at 212-920-9777 or email info(at)heatherbarranco(dot)com.
###