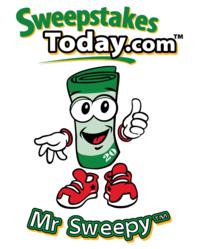 If you think you can win, you can. If you think you can't win, you won't. -Mr. Sweepy
(PRWEB) September 13, 2011
During the month of July, 2011, Sweepstakes Today (http://www.sweepstakestoday.com LINK), one of the largest online sweepstakes entry portals on the web, conducted an online survey of its members. More than 280 members participated in the survey which was carefully designed to offer the openness of focus group by providing space for detailed comments as well as just answers to specific questions.
The purpose of the survey was to determine just how sweepstake participants view the sponsors of the sweeps they enter.
Surprisingly, more than 90 percent of the survey participants said that in addition to entering the contest they also either buy or consider buying the brands and products featured. Four percent admitted to entering the sweepstakes only for the possibility of winning a prize and the balance, some six percent, said they had either no reaction or a neutral reaction to the branding.
Among the comments were many that indicated sweeps supported brand awareness, particularly in consumer staple purchases and in food purchases. A majority also stated they felt at least some increase in brand loyalty because they entered a branded sweepstakes. Several members said they used TiVo to help eliminate TV ads but took time to learn more about sponsors whose sweepstakes they entered.
"I've always thought advertising through sweepstakes worked," Craig McDaniel, founder of SweepstakesToday.com said. "But I hadn't realized just how interested sweepers are in the products and services offered by sweepstakes sponsors.
For additional information contact either Craig McDaniel through SweepstakesToday.com or Anne Wayman at anne(at)annewayman(dot)com
###