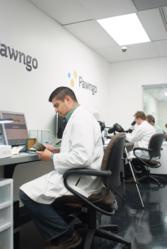 It became evident early on that there was a huge demand for our services among small business owners
Denver, CO (PRWEB) September 20, 2011
Pawngo, the world's first online pawn shop, announced today the launch of its Small Business Lending Program to help small businesses with immediate, short-term cash needed stay afloat as banks continue to tighten credit standards and limit small business lending.
Since launching in June, Pawngo has seen increasing demand from small business owners who have been struggling to secure bank loans to cover payroll, additional inventory, unexpected damages and a host of other expenses. "It became evident early on that there was a huge demand for our services among small business owners who found themselves with short-term capital needs and without any financing options," said Todd Hills, co-founder and CEO of Pawngo. "We are able to loan up to $1 million in less than 24 hours, which is simply not the way retail banks operate."
Monthly payments to Pawngo are about a third of what a bank charges since it does not require principal payments until the end of the loan period. This extended period gives small businesses the opportunity to get their finances in order and a real chance to get back on their feet without going further into debt. Small business owners can use gold, jewelry, watches and other valuables they already own as collateral to secure these short-term, low-interest loans.
"For many of these small businesses, all that's needed is a little boost to get them through the next quarter; however, that financial assistance is becoming increasingly harder to find," Hills said. "Keeping these small businesses healthy is key to improving our economy and we want to help ensure their success by offering them a fast, convenient alternative when banks are not willing to lend."
To date, the company has funded over $2.7 million in 46 states and is venture-backed by Daylight Partners, Access Venture Partners and Lightbank, the $100 million fund started by the founders of Groupon.
For more information, visit https://pawngo.com/small-business-lending.
###