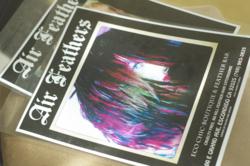 One shopper commented that having McCready in Escondido was like having "Our own Kat Von D-but with feathers!"
Escondido, CA (PRWEB) September 12, 2011
When the blackout hit the city of Escondido on September 8th at 4:00pm, Air Feathers Eco-Chic Boutique and Feather Bar was only 2 hours away from it's grand opening, and anticipating several hundred people including Sam Maddox and Patrick Ivison to accept a check for The Reeve Foundation. The small corner store, which is mostly windows heated up quickly and soon was unbearable.
Airie McCready and her team played 20 questions, told jokes, anything to keep their minds off the heat and the possible cancellation of their planned event. But it soon became evident that nobody could even make it there, the whole of Grand Avenue was closing, and the safest thing to do was go home.
"I didn't cry," said McCready, "it wasn't like that. I was sad, but also intrigued. Every time something goes wrong for us, something better seems to happen. So I waited."
When the power came back, Air Feathers was ready. The shop opened on Friday September 9th during an amazing night on the "Cruising Grand Avenue."
Hundreds of people came out to see the classic hot rods, fire engines, hear the bands and watch the 9/11 tribute fly over of planes.
Soon the Boutique was packed with shoppers, most of whom wanted feathers or colored extensions in their hair.
"The night was a rousing sucess, and Air Feathers is off to a good start," said McCready.
"I guess that was why we weren't meant to do it on Thursday-this is the kind of Grand Opening I dreamed of!"
Many of the shoppers commented that they had never seen a store devoted only to products that raise awareness or funds for charities like Air Feathers does.
One shopper commented that having McCready in Escondido was like having "our own Kat Von D-but with feathers!"
"Every thing about this place," said Justin Jones, whom McCready invited to spin glow sticks outside the shop, "feels good. Even my guy friends thought it was cool!"
The Reeve Foundation agrees-and released an article Saturday September 9th on their "Team Reeve" Page:
A HEAD OF FEATHERS AND A HEART OF GOLD
By: Stephanie Milot
Name: Airie McCready
Age: 46
Hometown: Culver City, California
"I have the drive of somebody who believes in what she's doing and loves what she's doing," says Airie McCready, 45, a hair extension artist. "I believe ultimately that the feather hair extensions are going to benefit not just me, but everyone who's involved."
A BEAUTIFUL IDEA
Look at Airie McCready and you'll see a head full of red and black feathers, with subtle tints of blue, green, and orange blended in. Talk to her and you'll realize that she has a heart of gold when it comes to helping others through her salon work.
McCready, founder of Air Feathers hair extensions, has spent more than five years working as a hair extension artist, currently working near San Diego, California. Her trendy hair accessory since May 2011 has been feathers, particularly what she has named "Fairie Feathers."
The Fairie Feathers are cruelty-free, meaning that "birds are not killed," explains McCready. "This [through Air Feathers] is the only way you can get them. Nothing has to die for us to look beautiful."
There are two farms in the U.S. where McCready gets her feathers, both of which do not kill the birds, and she is devoted to the secrecy of their locations. "Our expansion depends on people who love their birds," she says.
McCready takes great pride in her work by dedicating her time to hand-coloring every feather. The colors range from bright pink to navy blue and everything in between. Despite McCready having only two full-time and two part-time employees, they fulfill their salon distributors' requests.
"Our business has grown 1,000% (one thousand percent!) every two weeks since the beginning of May 2011," explains McCready. "Our orders have gone from 10 packs of each color to 150."
The large increase of salon orders for Air Feather products has not only been beneficial to McCready and her staff, but also to the Christopher & Dana Reeve Foundation.
FEATHERS FOR THE REEVE FOUNDATION
McCready's Air Feathers website is filled with striking photographs of models adorned in her feather hair accessories. The photographer is Christopher Voelker, who also takes photographs for the Reeve Foundation. Because Voelker is living with quadriplegia and is working with the Foundation, McCready wants to help support research for spinal cord injuries.
From each distributor's purchase of a Fairie Feather item, McCready's company donates one dollar to the Reeve Foundation. "For the one dollar we take from every Fairie Feather product to donate to the Reeve Foundation," she explains, "we challenge our distributors to match it." Thanks to this practice, as of July 2011, Air Feathers has raised over $1,000 for the Reeve Foundation.
On September 8, 2011, she is opening her own "Air Feathers Boutique," in Escondido, California. In conjunction with Fashions Night Out, McCready is holding a benefit for the Reeve Foundation where 50% of everything made both in the store and on her new online boutique, http://www.airfeathers.com will be for the Reeve Foundation between the hours of 6pm and 11pm. The store and site feature amazing items that are either eco friendly, give to a charity, or come from small artisans who McCready has handpicked herself. Everyone in the area is invited, information can be found at http://www.airfeathers.com.
THE THREADS OF HER LIFE
As a child looking through Vogue Magazine, McCready caught the "fashion bug." She has worked as a makeup artist and a model, as well as a fiber artist, which involves weaving and knotting items like yarn and string to create fashion accessories and household objects.
In addition to McCready's past fashion interests, by reflecting on personal eye-opening experiences she believes that she is destined to be a hair stylist. McCready has lost her hair, not once, but twice. The first occurrence of hair loss was due to an allergic reaction, and the second was due to a horseback riding incident. When she fell from the horse not only was her long hair so badly knotted that it had to be cut off, but she also broke her pelvis and back.
"I was told that I would never walk again," McCready explains, "and they were wrong. Thank God!"
"Since that incident," says McCready, "putting hair back on someone who has lost their hair is an amazing thing to do. The looks on their faces are incredible. I've been injured in every shape and form, and I'm okay. God must really want me to do hair."
At the age of 44, in order to receive her cosmetology license to be certified to apply hair extensions in a salon, she attended cosmetology school at night. Determined to make her Air Feather hair extensions popular, she pursued various stylists and distributors, all of whom initially turned down her products.
"No one knew what I was talking about, then the trend hit, and they all came calling," McCready explains, "10 stylists to 100 stylists, to 300 salons, to one distributor, to four distributors since May 2011! I tell people, 'If you have a dream, don't take no for an answer.'"
TAKING OTHERS UNDER HER WING
In the words of McCready, "Hair dressers -- we are illusionists." She explains, sometimes customers come into hair salons looking like they are having a bad day, and hair stylists try to do something about it. "When we're done, they look in the mirror, and if we've done our job, they smile," says McCready. "We haven't changed their life, but we made them feel better. It's an illusion, but it's so real to them."
McCready's Fairie Feathers have the power to create happiness and beauty, in addition to financial stability for those in need. At the start of her business, she bought feathers from various farmers, but some feathers were dirty and ill-kept. Eventually McCready found feathers that she describes as "beautiful, clean, soft, and flexible." Upon asking the woman she bought the feathers from why they are in such great condition, the woman replied, "Because I love my birds and I don't kill them."
USING FEATHERS TO HELP FRIENDS
A genuine desire to help others defines McCready as both a hair stylist and a person. Some of her employees are friends and acquaintances that she took under her wing when facing financial and personal hardships. "I'm not just working for me now," says McCready. "I have a responsibility. Everyone who's here wants to be here and believes in what we're doing."
"I'm really thrilled to be working with the Reeve Foundation," says McCready. "You know you're doing the right thing when it comes through easy, and beautiful things come out of it."
Air Feathers Eco-Chic Boutique and Feather Bar
200 E. Grand Ave
Escondido, CA 92025
(760) 983-3825
###