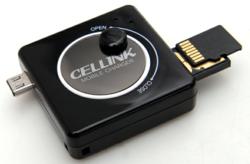 "…it works with literally every device I threw at it,  I really only need the Cell Drive for all of my mobile needs.  Love this product.  Probably one of the best new gadgets I've reviewed this year".  
----The Gadget Guy
Southlake, Texas (PRWEB) September 15, 2011
The Cellink ET offers the same power and data management functions as the patented Cell Drive but adapted to a more specific cell phone user. While the Cell Drive is a usb flash drive device which with adapters can accomodate mini/micro usb and iPhone/iPod devices for charge and sync functions, the Cellink ET as a card reader allows the users the freedom to use the appropriate memory capacity to fit their needs as well as allow the use of the micro SD memory card that is included in many of the smartphones on the market.
The micro-usb charge/sync tip on the Cellink ET device allows charging for many micro-usb devices like GPS, Bluetooth, MP3 as well as data/media sync and transfer between computer and mobile phone.
The smaller battery of the Cellink ET allows for a smaller device for easy carry and tether.
Sam Duyka, the owner and US patent holder of the Cell Drive technology advises that the Cellink ET will be priced lower than the 4 GB Cell Drive which makes it an attractive product for the promotional market as well as the casual traveler and student.
Sam stated that he is interested in finding licensing and OEM partners to promote the technology. There is a limited supply of samples for distributors and retailers.
The Cellink ET will be available in late October and can be purchased through the Cell Drive web site with a suggested retail price of $39.95. Pre-orders will be taken through email samduyka(at)sldmarketinggroup(dot)com
###