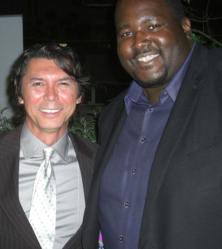 I am so very proud of all the kids at this special youth center
Hollywood, California (PRWEB) September 10, 2011
"The Blindside" actor Quinton Aaron was a presenter at the 5th Annual Boyle Heights Tech Youth Center Awards & Fundraising Gala. This event was held in Los Angeles on September 8th, 2011.
The Center is operated by the Youth Opportunity Movement of the City of Los Angeles in partnership with the Los Angeles County of Education with the purpose of giving kids from at-risk-communities hope and opportunity to develop the skills they need to move forward in their lives for a viable future. The Annual Community Awards Fundraiser brings public awareness to the Music & Arts program at Boyle Heights Technology Youth Center, and to celebrate the center's Graduating Class of 2011.
Quinton Aaron presented the Star Student Award to Tanari Echeverria. Other presenters and recipients at the star studded event were Lou Diamond Phillips, Hill Harper, Tatiyana Ali and Esai Morales.
"It was such an honor to present an award at this special event." States Quinton Aaron. "I believe every actor/entertainer should give back to the community and I am so very proud of all the kids at this special youth center. Congratulations to the graduating class of 2011!"
For more information about Boyle Heights, please visit: http://www.layo.org/boyleheights.htm
About Quinton Aaron
Quinton Aaron starred in his first lead role as Michael Oher alongside Sandra Bullock and Tim McGraw in The Blind Side, which was released on November 20, 2009. Quinton Aaron is represented by celebrity consultant Raffles van Exel and is currently working on television and film projects for 2012.
For more information, please contact Raffles Entertainment: pr(at)rafflesentertainment(dot)com
###