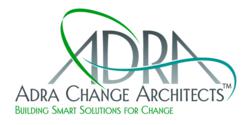 Banks Consulting has been a trusted management and training partner for pharmaceutical and high tech companies across the country since its founding in 2004
Manalapan, New Jersey (PRWEB) September 12, 2011
Banks Consulting, LLC, an organizational change consulting firm, has refocused its mission to provide pharmaceutical, medical technology, and high-tech firms with the developmental tools and management guidance they need to grow in the current economy.
The company's name change to Adra Change Architects and dynamic new logo were the result of the company's growth and desire to expand the use of its successful ChangeSmart TM framework.
"Banks Consulting has been a trusted management and training partner for pharmaceutical and high tech companies across the country since its founding in 2004," says Beth Banks Cohn, PhD founder and president. "As we've grown and our customer base increased, we realized that the company's brand value and services had expanded but our name didn't reflect that. As Adra Change Architects, our name is now in line with the value we bring to both current and future clients. Whether you want to grow through new products, acquisitions or mergers we can help you plan for the unique challenges you will face on your way to success."
"Adra was chosen because it is a word with truly international origins and usage. It has both a Latin origin meaning from the sea, representing movement and a Hindi origin meaning rock or hard, signifying solidness. As change architects we wanted to indicate that we bring a solid foundation of education and skill to every project while maintaining the movement and flexibility every business needs. Every change can seem like a mountain to be climbed or a sea to be crossed, but with proper planning and execution success is always possible."
The new name embraces the technical and creative components of how the company works with each organization and its departments to help them transition when faced with new business opportunities or unforeseen challenges. The company's focused tagline: Building Smart Solutions for Change embodies the company's mission. The logo reflects both the mountains mentioned earlier and the process of change which is something constantly moving and evolving.
"We recognized that like many of our clients, we too were changing," says Cohn. "We took ourselves on as a client and applied our services inward to manage our growth and identify ways to improve our external communication. We hired Strategia Design, a brand consultancy firm, to help us implement the name and logo change that we had identified as a core component to our future growth."
Adra Change Architects will continue Banks Consulting's work to provide strategic change and change communication consulting as well as executive coaching to pharmaceutical and high tech firms and work to expand to allied industries that are looking for ways to change so that they may grow no matter what the economic environment.
Visit the company's rebranded website: http://www.adrachangearchitects.com
About Adra Change Architects
Based in Manalapan, New Jersey, Adra Change Architects is an organizational change consulting firm providing strategic change and change communication services to pharmaceutical, medical technology, high tech firms, and their allied industries. They have developed their signature ChangeSmart™ framework to help companies harness the power of their people in order to implement sustainable and positive changes.
# # #