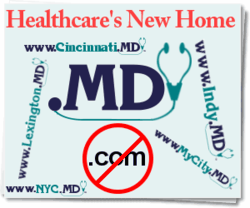 Revenues for media are declining but that is NOT the case in health care and that is why media companies partner with YourCity.MD!
Cincinnati, Ohio (PRWEB) September 14, 2011
Companies are losing more and more money in this slow economy because clients are fearful of spending money on marketing. "We help those companies change the downward spiral of revenues by supply them with tens of $millions in inventory to sell, to make them profitable once again by tapping into health care dollars. The decision to partner with YourCity.MD is becoming much easier because we share all our inventory and revenues. YourCity offers media companies proven patient feedback products, private mitigation and communication tools between doctors and patients, daily news updates, One-Click Search Engine by condition or symptom, health care newsletters, iPhone apps, local Specialty Experts sharing daily health blogs & tips and the complete directory of every type of licensed local health care provider in their neighborhood, just to mention a few free features that other aggregators don't offer." said Joe Benza, Founder/CEO of YourCity.MD LLC.
Charter Cable in Worcester and the Boston area had this to say about their new partnership, "We are proud to be The First Market in New England to offer the http://www.Worcester.MD Hyper-Local Health and Medical Resource to both the residents of Central New England AND The health and medical professionals. The results seen in other parts of the country with this One-Click resource have been most impressive" stated Dave Bedard, Producer/Senior Account Manager, Charter Cable TV3
Top health care Consultant, Donald G. Lightfoot, MBA, CEBS, CLU, President & CEO The Grant Group is encouraging companies in California and across the USA to partner with YourCity.MD and stated "As our broken health care system looks to alternative ways to deliver quality medical care while lowering the spiraling costs, there is a significant part of the solution with the .MD sites in over 500 cities across America. For health care providers, .MD is the most effective and economical way of attracting new patients and which also provides important patient feedback...thus, eliminating lawsuits and solving any complaints quickly.
It is for these reasons, and more, that I recommend .MD to my clients...and most recently consulted with Health Focus TV and recommended they partner with .MD." The partnership agreement Mr. Lightfoot recommended to Health Focus TV was signed last week by YourCity.MD LLC and 7 new health TV stations featuring YourCity.MD participation will launch in January 2012.
Lynne Matallana, Founder National Fibromyalgia Association said, "Having founded the National Fibromyalgia Association, (NFA) a non-profit organization working to help patients to get the medical assistance they need and deserve. At times our organization would get up to 500 of these calls in one week, and our "HCP Directory" was limited. Where could we refer all these people and feel confident that they would have access to a "patient rated" resource that would be easy to use, and provide them with information on the top rated HCP's in their city. We finally found the answer! "http://www.YourCity.MD". These sites are top notch, easy to use, provider of thousands of HCPs, dentists and more that could help our constituents! I am pleased that our constituents will have a resource which will help people living with chronic pain (and other illnesses) to find a good doctor that fits their needs!"
About YourCity.MD
Founded on the principle that healthcare is and should be local for all regardless of economic condition, YourCity.MD LLC is healthcare's trusted local navigation system, helping consumers in over 500 cities and states quickly find medical content and information that points them directly to the appropriate local healthcare resource or local provider to solve a medical problem. Now partnering with media, sales and health care companies. Located in Cincinnati, Ohio and founded in 2004. To request sales revenue and partnership details send requests to support(at)YourCity(dot)MD
###