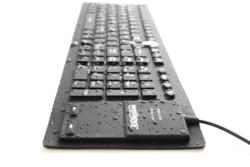 "Keyboards collect a lot of germs…This keyboard by WetKeys is fully washable. Nothing can happen to it [when dunked in water] and it is compatible with most computers as it connects via USB." - Mario Armstrong, NBC TODAY
Atlanta, GA (PRWEB) September 13, 2011
WetKeys Washable Keyboards (wetkeys.com), a leading industrial keyboard manufacturer and online retailer of waterproof keyboards, was chosen to provide its touchpad keyboard (model KBWKFC108T) for a germ-fighting technology segment on NBC's TODAY Show.
Mario Armstrong, an EMMY winning tech expert, noted during the broadcast, "Keyboards collect a lot of germs…This keyboard by WetKeys is fully washable. Nothing can happen to it [when dunked in water] and it is compatible with most computers as it connects via USB."
The "108T", a full-size silicone keyboard with built-in touchpad and permanently sealed keyboard cover, was designed to reduce cross-contamination in medical computing and has been used by hospitals, food processing plants and the US Navy. At $59, the roll keyboard style is inexpensive and ultra-portable. Like all WetKeys® products, it's completely waterproof and washable making it useable where liquids, dirt or germs would pose a problem.
WetKeys offers the widest selection of washable, waterproof keyboards and mice used by healthcare and food processing clients including Baxter Healthcare, Coca Cola, Merck and the Centers for Disease Control.
About WetKeys®
WetKeys Washable Keyboards (wetkeys.com) is a leading manufacturer and online retailer of fully sealed, waterproof computer keyboards and mice. Its mission is protecting health and safety by providing affordable, easy-to-sanitize data input devices used in healthcare and food processing to reduce the spread of disease. WetKeys.com offers the widest selection of medical keyboards, industrial keyboards and computer mice designed to withstand heavy-duty use in hospitals, offices, labs, and food safety applications. Maintain a healthier workplace, lower the cost of healthcare and extend the life of your IT equipment when you buy a waterproof keyboard and mouse from WetKeys.com. WetKeys is a member of the Advanced Technology Development Center of Georgia Tech with products featured on NBC's TODAY Show, CBS, Fox News and CNBC as 'Top10 Tech Gifts'.
###