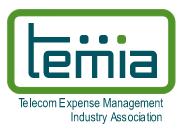 International Telecom Expense Management is an important growing trend as more organizations seek to to improve control, increase efficiencies and reduce expenses.
Amsterdam, The Netherlands (PRWEB) September 12, 2011
As part of its ongoing mission to provide educational programs about Telecom Expense Management (TEM) and Wireless Expense Management (WEM) and Mobile Device Management (MDM), the Telecom Expense Management Industry Association (TEMIA) is offering a free webcast for enterprises, government, and other organizations interested in best practices regarding international TEM.
The next webcast titled, New Perspectives on International Telecom Expense Management, is Wednesday, September 14 at 11 AM Eastern Standard Time or 3 PM GMT. TEMIA's guest speaker, Daniel Mens, Sales Director for Ezwim, will speak about international Telecom Expense Management from a European and an American standpoint.
Register today for the webinar on New Perspectives on International Telecom Expense Management or go to the TEMIA website to register for this webinar and other upcoming webinars. If you are considering an international deployment of a TEM program, this webinar will provide the key considerations, policy, budget considerations and best practices, that you need to know.
"We have industry leading customers in both the US and in Europe", added Bram Cool General Manager of Ezwim, "so we understand the unique requirements specific to these geographies, which we will discuss in the webinar."
Joe Basili, managing director for TEMIA stated, "This upcoming webinar is part of a growing number of programs which help fulfil TEMIA's central mission of promoting the value of telecom expense management through education and marketing. TEMIA member companies are well-positioned to address best practices, performance metrics, and industry standards."
About Ezwim
Ezwim is a leader in telecom management cloud services for enterprises and operators. Ezwim's Telecom Management Suite, available at http://www.ezwim.com, offers a complete portfolio of telecom management applications that enable global organizations to gain visibility into, and control over, their mobile and fixed communications assets and costs. Ezwim helps companies to realize telecom cost reductions, process efficiencies and run every part of their enterprise telecommunications in the cloud.
About TEMIA
The largest Telecom Expense Management (TEM) service providers founded TEMIA, the Telecom Expense Management Industry Association, in 2006. Since that time, TEMIA has grown to 38 members with international corporate headquarters managing over $36 billion of telecom and data spend.
TEMIA's mission is to raise awareness and knowledge of the values and benefits of TEM solutions, to improve the quality and value of TEM solutions through the development and promotion of open industry standards, and industry knowledge among TEM Solution Providers, business partners, telecom service providers, and enterprise clients.
For more information about TEMIA, visit, http://www.temia.org. Learn how to implement an international TEM program with this free webinar.
# # #