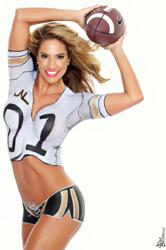 The JNL 16 Month Body Paint Calendar is the MUST HAVE JNL collectors item, if you are a true JNL fan, and it being a limited edition, you must get one at www.ShopJNL.com.
Miami, FL (PRWEB) September 12, 2011
JNL's production company produced this major project from start to finish, with Jennifer acting as creative director, and of course "canvas". The entire production took place at JNL's Fitness Model Factory, the premier production house to book photo shoots, events, video productions, plus so much more. The 15 different themes expand from sports themes, butterfly, mermaid, Wonder Woman, rocker girl, to even Van Gogh's 'Starry Night'. JNL and her team went above and beyond for her body paint calendar, quoting Mr. Claude Taylor, who is the Director of Operations to JNL Worldwide Inc, as well as JNL's Chief Celebrity Photographer, "I have never seen a woman work as hard as JNL to get this project completed. Having photographed two of the months, I can see just how passionate she is about this project, and how grateful she is that it is now able to touch so many lives, around the world." Speaking of motivational, JNL made sure that partial proceeds will be given to some of her favorite charities.
When asked where JNL got her inspirations for this mega project which her company JNL Worldwide, Inc produced, she replied "I got my inspirations for my Body Paint calendar from many sources: From Sports Illustrated Body Painting photos, to me not liking "TMF" (Too Much Fabric), and also how I am an artist, as a super fitness model, and my body is indeed a canvas...to be painted on. With my last calendar being called "Too Much Fabric", I wanted to go above and beyond the bikini, and really show my lines, curves, definition, and muscle tone in the art form of body paint. This was no small feat. And I have to thank all who helped me make this mega project happen.'
And the biggest thanks goes to Miss Karen Taylor of Art by Karen, who did the most amazing job of body painting. The funny story behind how JNL met Karen was at JNL's son's birthday party, where she hired her to paint the children's faces. JNL accounts that she was the first one in her chair to be face painted.
In her dedications, she leaves no one unthanked, of course starting with her husband, quoting "I have to thank my husband who is my rock, soul mate, and best friend! Thank you honey for watching our "lil kings" while I was away at my Fitness Model Factory getting body painted, for over 100 hours! I owe you big time!" She as well thanks Mike Brochu who photographed the bulk of the looks, counting a total of twelve looks. The design aspects of this limited edition collector's item wall calendar were especially created by Carolina Gonzalez of Axis Design.
To order your own autographed limited edition collector item JNL Body Paint Calendar, visit http://www.ShopJNL.com
###