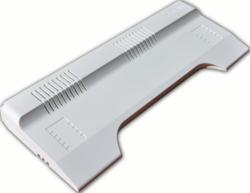 San Jose, CA (PRWEB) September 12, 2011
Altaz today unveiled the Cooling "Doc", an all-in-one cooling platform, docking station and peripheral cable organizer for 13" MacBook. The Cooling "Doc" features dual cooling fans, three USB hubs and a SD/MS card reader, facilitating the versatility and multi-functionality of today's popular laptops.
"People are very attached to their MacBooks and often utilize them for extended periods in concert with many other peripherals, thereby increasing the potential for heat build-up that naturally occurs with prolonged usage," said James Lin, President of Altaz, Inc. "We recognized people's desire to use MacBooks to their fullest capability, and designed the Altaz Cooling "Doc" in response to their concerns."
The Altaz Cooling "Doc" fans dissipate the hot air that accumulates beneath a laptops undercarriage, reducing hot air build up and helping to extend a laptop's life expectancy. The high/low speed settings provide optimum cooling performance, and the independent On/Off switches for the fans and the USB hub, enables users to set power usage and source to their personal preference. A channel grid molded into the underpinnings of the Altaz Cooling "Doc" eliminates messy cables, keeping the power cable out of the way.
"We understand the need for productivity and convenience in today's extremely mobile work environment," said Lin. "With a tactile surface, slanted non-slip base and lightweight, padded carrying case complete with three interior pockets, the Altaz Cooling "Doc" fits perfectly anytime and anyplace you need to get to work."
Altaz Cooling "Doc" - $49.99

Dual cooling fans
High/low speed fan settings
Three USB ports hub
SD/MS card reader
Undercarriage cable channel grid
Rigid, ergonomic, non-slip stand
Included 5V power adapter, USB cable, and protective case
The Altaz Cooling "Doc" is available online at Altaz.com, Amazon.com, Buy.com and other popular consumer electronic online stores.
About Altaz, Inc.
Altaz was founded to develop consumer electronic and technology-based products that combine stylish design with practical functionality. Focused on the latest market trends and emerging product categories, we give consumers who demand high quality and sound value a better product alternative. As a privately held company, with a senior management team accomplished in all facets of consumer electronics product development, we are committed to enhancing the consumer product experience.
Product Photos, Spec Sheets and Product for Review are available upon request. For more information and interview opportunities, please contact:
Altaz, Inc.
PR(at)altazusa(dot)com
###