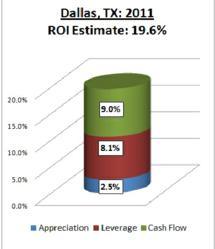 "In the case of Dallas, there's a perfect storm of factors that combine making it a very strong investment market." Jason Hartman
Irvine CA (PRWEB) September 12, 2011
Jason Hartman, creator of the Complete Solution for Real Estate Investors™, advises investors nationwide to consider Dallas for their next real estate investment.
The Dallas market is expected to hit the bottom of its mild contraction this year and then resume a course of modest appreciation with excellent cash flow. The area experienced a series of moderate appreciation followed by a gradual contraction that has resulted in much less price volatility than has been experienced by other markets.
The primary strength of Dallas as an investment market is the strong income potential and high cap rates. A large tenant base results in a slow and steady rate of value appreciation with low vacancy rates.
"By building your investment on top of rents that are large enough to cover expenses and mortgage, it gives you the power to hold strong until market conditions are optimal," said Jason Hartman. "In the case of Dallas, there's a perfect storm of factors that combine making it a very strong investment market."
That 'perfect storm' is a strong business sector—attracting skilled employees—along with a large population of renters. The substantial tenant pool is partially due to the relatively high property taxes. This influences many people to rent rather than purchase. It also works to suppress price increases and place upward pressure on rents.
One of the disadvantages of Dallas is that many people don't care for the heat and humidity of Texas summers. This personal preference may put off some investors even as millions of people call "The Big D" home.
Hartman adds, "Dallas is a wonderfully cosmopolitan city with abundant opportunities for dining, entertainment, education, arts, culture, sports and most importantly, employment. Millions of people have moved to markets like Dallas or Atlanta because of their superior employment opportunities."
According to Foreclosure Listing Service Inc., foreclosure postings in the Dallas-Fort Worth metro area fell in the July to September period to their lowest level in 11 quarters. Postings were down to 12,876 filings; a 21% decline from the 16,229 postings recorded for the third quarter of 2010. Foreclosure postings increased for homes valued below $100,000, which rose 7 percent, but dropped for all other price segments. Of the homes posted for foreclosure in the Dallas-Fort Worth area this year, 83 percent were priced under $200,000.
Forecast Methodology
Hartman's return-on-investment (ROI) predictions for each individual market are based on three fundamental components not considered by other forecasters. Income property, unlike other investments, is a multi-dimensional asset class. The first is component appreciation (or depreciation), which is based on a composite of forecasts from CNN Money, Fortune and Hartman's innovative Regression to Replacement Cost™ methodology. The second is leverage. The reason Jason Hartman's methodology separates appreciation from leverage is to pinpoint how much value is coming from the asset itself and how much is coming from financing benefits when acquiring the asset. The final component of the ROI predictions is cash flow where income property can be compared to bonds and dividend-paying stocks.
Hartman's model is the only one of its kind that includes a full ROI build. Most forecast reports begin and end their analysis with value appreciation or depreciation. Hartman and his team understand the full dynamics of return on investment and have chosen to create and report a complete ROI analysis for each of the targeted market areas.
About Jason Hartman
Jason Hartman, CRS, GRI, CSP, AIPIS, is America's foremost expert on long-term wealth creation through monetary policy and income property. He is the founder of Platinum Properties Investor Network, The Hartman Media Company, Open Door Auctions and The Jason Hartman Foundation. Jason is an accomplished entrepreneur, public speaker, media personality and author of 11 books.
Jason's Complete Solution for Real Estate Investors™ is a comprehensive system providing education, research, resources and technology for income property investment. His highly sought after educational events, speaking engagements and his acclaimed "Creating Wealth" radio show inspire and empower hundreds of thousands of people in 26 countries worldwide. For information, call 714-820-4200 or visit Jason Hartman online.
###