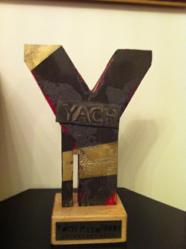 I've been dreaming of this moment since my childhood!
Hollywood, CA (PRWEB) September 11, 2011
International Pop Sensation KUBA Ka was honored at the YACH Film Festival in Gdansk, Poland on September 10, 2011. KUBA Ka was awarded the Yach Film Festival Ambassador of Freedom. KUBA Ka also won the "Special Award of The Year" and his video "Streets of Freedom" was nominated for "Debut of the Year."
Yach Paszkiewicz, Artistic Director of the Yach Film Festival (of Polish video clips) requested KUBA Ka's attendance at the festival. Due to scheduling conflicts, KUBA Ka was not be able to attend the festival, but had a special video for those in attendance.
"His extraordinary attitude in the category of pop music merits attention and wider interest," said Paszkiewicz. "His most recent clip raising the issues of freedom in a contemporary world is fantastic."
The festival was broadcast in Cinema Cities in Gdansk, Warsaw, Cracow, Torun, and Poznan. Genres from hip hop to pop and alternative was showcased at the festival.
"Thank you so very much for these great awards. I've been dreaming of this moment since my childhood." States KUBA Ka. "To receive the Ambassador of Freedom Honor, the Special Award of The Year, and Nomination for Debut of The Year for my first American video, 'Streets of Freedom' is great honor. It's really unbelievable!"
About KUBA Ka:
KUBA Ka is an international singer, dancer and actor hailing from Poland. He is considered a pop superstar and humanitarian in his homeland and throughout Europe. KUBA was named one of the Greatest Men of 2001 by the Polish edition of ELLE Magazine. KUBA has performed with legendary icons including Oscar winning actress Vanessa Redgrave.
In 2000, KUBA was a guest star of the Christmas Day for the Youth at Presidential Palace in Warsaw, invited by the former President of Poland – Aleksander Kwasniewski and his wife, Jolanta. The stage was set for worldwide domination when legendary manager and music industry veteran Frank DiLeo signed KUBA Ka to a management deal with the Dileo Entertainment Group in July, 2010.
KUBA Ka is now signed with celebrity consultancy Raffles Entertainment and is working on his American debut for 2012. KUBA is also working with world renowned vocal coach Seth Riggs.
For more information about KUBA Ka, please contact Raffles Entertainment: pr(at)rafflesentertainment(dot)com.
###