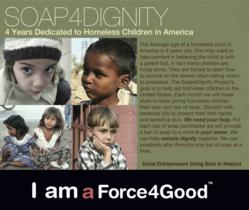 I had no idea buying one bar of soap could do so much
Milwaukee, WI (PRWEB) September 13, 2011
IamAForce4Good, LLC has developed a program called Soap4Dignity. What is soap4Dignity? For the next 4 years, each state will be assigned a month where for each bar of soap sold throughout the entire nation, through IamAForce4Good, LLC, one bar will be donated by the company to children in homeless shelters in that particular state.
How are they doing so far? The first month of the program (July 2011), one associate took it to heart selling 225 bars of soap. Between the sales and donations created a total of 300 bars of soap to be donated to the homeless children in Wisconsin, and that is just from one associate. Who is this associate? His name is Mark Vogel.
We caught up with Mark and asked him what's next? He reports, "The next step is to make IamAForce4Good a household name by taking it to the streets, some people will want to be associates and help the cause, while others will simply be so moved by the mission they will become users of the company's products. What I want to do is find those leaders who want to get involved, understand the mission, and develop a home based business creating a network of people helping people. Associates help themselves by building a business, creating extra income for themselves and their families, all the while giving those less fortunate a hand up instead of a hand out. By creating jobs in manufacturing, producing the products the company sells to benefit the shelters where these disadvantaged people reside, is truly a mission of compassion."
With what it has developed, IamAForce4Good, LLC is certainly poised to make some changes in this nation with donation programs like Soap4Dignity, the assistance it provides to shelters for those disadvantaged people living in them. As well as the income generated to allow for extra income to the associates.
The situation this nation is in, people losing their jobs, even those who are employed are finding it difficult to make ends meet. IamAForce4Good, LLC seems to have a little something for everyone. The right company, at the right time, with the right products.
# # #