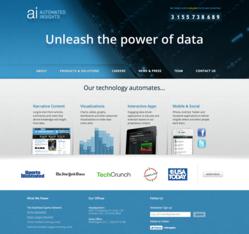 "In essence, our technology humanizes big data by automating knowledge and insight so the new name is a perfect fit." - Robbie Allen
Durham, N.C. (PRWEB) September 12, 2011
StatSheet, a worldwide leader in high-quality, real-time content automation, announced today that it has raised a $4 million round of funding led by Court Square Ventures and OCA Ventures, with participation from IDEA Fund Partners and other existing investors. In conjunction, the company changed its name to Automated Insights to reflect the broad applicability of its innovative technology to data-intensive verticals beyond sports where high content generation costs can make comprehensive coverage prohibitively expensive. The company's sports offerings will continue to grow under the StatSheet brand.
"We believe this new corporate branding better reflects the long-term potential of our company, and underscores the value of our technology to any vertical with large amounts of structured data," said Robbie Allen, the company's CEO and founder.
Automated Insights' technology transforms vast amounts of raw data into compelling narrative content and powerful visualizations. The content is written entirely by software and can be formatted as headlines, summaries, and long-form articles. In addition, the content can be published cost-effectively at just about any scale via the web, mobile applications, and all types of social media.
"Our technology has worked extremely well with sports, but it is also well suited to verticals such as finance, real estate and weather, or even sales productivity and business intelligence applications. In essence, our technology humanizes big data by automating knowledge and insight so the new name is a perfect fit" added Allen.
Automated Insights' technology can be seen in action in their rapidly growing StatSheet sports content network (http://www.StatSheet.com). StatSheet currently powers fully-automated, real-time coverage of all 375 Major League Baseball (MLB) and NCAA Division I College Basketball teams via dynamically updated team-centric websites, iPhone and Android applications, Facebook pages, Twitter accounts and e-mail newsletters. In September, the company will also launch team-centric sites and mobile apps for all 32 NFL and 244 NCAA Division I College Football teams.
"Automated Insights is revolutionizing the creation of compelling high-quality content and they have proven they can do it at scale through their StatSheet sports content network," commented Randy Castleman, General Partner with Court Square Ventures. "We are excited to help them continue to grow their sports coverage and apply the technology to new verticals."
"We are thrilled to team up with such a strong management team and experienced investors," noted Jim Dugan, CEO and Managing Partner of OCA Ventures. "We believe the timing is ideal for Automated Insights' highly scalable content development solutions."
About Automated Insights, Inc.
Automated Insights, Inc. represents the next revolution in content creation. The company's technology automatically transforms raw data into compelling narrative content (articles, summaries, headlines), visual displays (charts, tables, graphs) and interactive applications (mobile and Twitter/Facebook–based social applications). In essence, the company uses technology to humanize big data, and automate knowledge and insight at scale. Automated Insights' first market is sports. Through its StatSheet brand, the company currently converts a rapidly growing data set of over 2 billion statistics into comprehensive and compelling coverage of NCAA college basketball and Major League Baseball. The company currently publishes over 15,000 articles per month through its network of more than 375 team-centric websites, mobile applications and Twitter and Facebook accounts. Later this fall, Automated Insights will be launching its NFL and NCAA college football coverage. To learn more, visit http://www.automatedinsights.com and http://www.statsheet.com.
About Court Square Ventures
Court Square Ventures invests in dynamic young media, IT and communications companies throughout the U.S., with a particular focus on those executing the critical transition from product to first sales and accelerating growth. http://www.courtsquareventures.com.
About OCA Ventures
OCA Ventures is a venture capital firm focused on equity investments in companies with dramatic growth potential, primarily in technology and highly-scalable services businesses. Over the last decade, OCA has invested three funds in over 40 companies. http://www.ocaventures.com
###