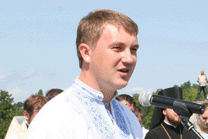 We see absolutely no reason that Tymshenko should be on trial in regards to the gas deal that she helped sign in 2009.
(PRWEB) September 14, 2011
In an exclusive interview with Democracy4us.org, Suslov states that the youth of Ukraine have united across democratic opposition parties and have come to preliminary agreements with disaffected leading members of Yanukoych's Party of the Regions' youth bloc, as part of organizing a coordinated and possibly revolutionary activities in the near future, in response to what they see as Yanukovych's attack on Ukranian democracy. Suslov says that his organization has spent two years educating youth leaders across the country about the importance of democratic development and months planning a coordinated response, installing communication centers and laying out specific plans of action in all regions of the country. On Monday, Suslov and President of the YEPP(Youth of the European People's Party), Csaba Domotor, in Ukraine as part of an event to bring together youth leaders from 27 from 50 parties of various European countries, made official statements on the country's current political situation at a press conference in Ukraine's Parliament, which was also aired over broadcast television.
Suslov also stated that the youth of Ukraine are far from ambivalent about what his faction perceives as President Viktor Yanukovych's crackdown on civil society, freedom of the press, and human rights, and are strongly opposed to the persecution of former PM Yulia Tymoshenko. When asked if the youth truly understand how the government's actions are affecting and will affect society, Suslov responded, "The youth of the country are not simply young children still in school. Young people are also increasingly becoming more involved in business activities, and thus are witness every day to the immense amount of corruption and illegality in our society." He noted that corruption and terror tactics have increased dramatically since President Yanukovych came to power. The trial of Tymoshenko, according to the leader, has served as a catalyst to incite young people to begin to take action. Suslov has thus far called for certain peaceful movements to demonstrate protest, among which included encouraging students to refuse to sit at their desks for 10 minutes in the first period on the first day of school this year. He said that a huge number of young people, including but not limited to the 25,000 in Young Fatherland's bloc, responded to his call.
Suslov said that the leaders of the various youth factions, which he has come to coordinate, are ideologically motivated. "When I speak of the young people from the Party of the Regions whom we have come to preliminary agreements with, I am not referring to those whom Yanukovych pays to protest for a few dollars an hour, but to those who are truly ideologically minded." Suslov feels that the Yanukovych's recent actions, including an initial refusal to pay for gas at the price stipulated in the 2009 contract between Ukraine and Russia, which Tymoshenko is on trial for having facilitated, have served to mobilize the opposition in the Party of the Regions, which is sympathetic to Russia.
Suslov stated any fractions among youth leaders from the various parties of the democratic opposition are negligible and that the youth political leaders are very much working in tandem, with a high level of internal organization, a unified strategy, and a clear method for communicating with one another, both at present and under conditions that might to come about if there is to be revolutionary movement. When asked if local celebrities, some of whom, like pop star Ruslana and boxing champ Vitaly Klitschko, were helping to support political movement among the youth, Suslov said that the young people did not need such guiadance. "There was a time when we looked up to celebrities and certain personalities to guide us and motivate us. However, that time is past. We understand the dangers of what is occurring ourselves and do not need external motivation. Young Fatherland has taken upon itself the responsibility to educate those who need education.The youth, in general, however, are far from apathetic. They are angry and motivated to produce immediate change."
From September 8 to September 11, YEPP leaders gathered in Ukraine to participate in a conference concerning the country's democratic development and advise with one another on how to respond to the trial of Tymoshenko. After attending a court hearing and speaking with Tymoshenko herself, YEPP President Csaba Odometer stated at a press conference, "We see absolutely no reason that Tymshenko should be on trial in regards to the gas deal that she helped sign in 2009. I was genuinely stunned by the number of police officers in and around the court. Most of all, we are extremely concerned by the fact that Tymoshenko has been put through such a rigorous trial, with sessions lasting every day from morning until night, and has been given no time to prepare her defense. This is a clear violation of civic rights and blatantly shows that the court has a pre-determined verdict in mind, which the President's regime is pressuring it into. As for the decision to keep her in custody until sentencing, this is so abhorrent that I have no words for it. "
Suslov added, at the same press conference, that part of the reason for the visit of the YEPP leaders was to "adopt a resolution on a unified response to the political situation and harassment of opposition leaders in Ukraine." Suslov stressed the importance of keeping Ukraine on a European path of development, because, "despite the anti-democratic processes aimed at the development of authoritarianism in Ukraine, the only way to develop our country is to act as a single European family."
###